POEM, SISYPHUS

Moon, Sisyphus
Full
Null
Life, Sisyphus
Chain
Who knows how many

Days in the
Life of Brahma
Pebble, Sisyphus
On a beach
Wave
Wave
Wave
Polishing
Up there
Slick stars who made it




You know how Sisyphus had to roll a massive rock up a steep hill, and how it would roll back down again. But, do you know, a day in the life of Brahma = 4.32 billion years. So is a night. Brahma's life of a hundred years (36,000 days) = 311.04 trillion human years. Human life is not manifest during Brahma's night.


***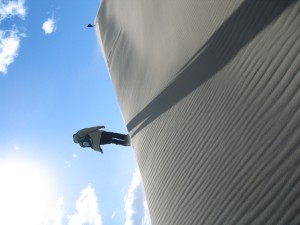 Mani is the author of eight books of poetry including Ghostmasters (2010) and Echolocation (2003) and a translation of the Sanskrit Bhagavad Gita as a poem. www.manirao.com has updates.
Photo by Paul Schollmeier.