This week we feature new work from the five finalists for the 2012 Omnidawn 1st/2nd Book Contest:
Jaime Brunton — Reclaimed
Meg Day — We Can't Read This
Endi Bogue Hartigan — chorus [interstice]
Brandon Kreitler — Valley as a Negative
Daniel Poppick — The Police






Experience
There were days when we put on our best clothes to go out. There were days of not getting dressed at all. Sick days. Weekends. Other inventions. There were whole days of watching the rain from indoors. There were Tolstoy and Marx. There was the benefit of experience. Having learned not to drink on Wednesdays; having learned to chart the flux of emotions by temperature, sunlight, caloric intake, phase of the moon, political oppressions, and interaction with the state; having learned when but mostly when not to emote: thusly have we aged. Still, empathy and disappointments, wanting this or that out of nowhere, out of instinct. Still, a surprise. Returning to what is tactile, and still naming ("instinct," "surprise").

*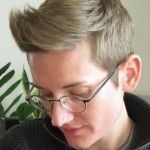 Jaime Brunton's poems have appeared or are forthcoming in Denver Quarterly, Mid-American Review, The Cincinnati Review, Diagram, The Journal, Poet Lore, and other journals. She has been a finalist for the Four Way Books Levis Prize and Intro Prize as well as a semifinalist for the Walt Whitman Award and the Alice James Books Beatrice Hawley Award. Her chapbook The Future Is a Faint Song (co-authored with Russell Evatt) is forthcoming from Dream Horse Press. Her two chapbook manuscripts were finalists for the 2012 Midwest Writing Center Chapbook Contest. Brunton lives in Lincoln, Nebraska, with her wife and baby daughter.





***
During The Ricochet Of The Bullet From His Taser

for Oscar Grant


See, the serpent rehearses his hisses,
kisses his reflection like somebody made him master –
but a uniform doesn't make a man a man no matter how hard he wishes
it would. Still, he dreams his captures, executes them faster
stifling his laughter when asked over dishes by his Mrs.
whether he knew he'd chosen wrong. The devil he looks past her
comes in all kinda shapes out under this sun
& sometimes they end up on the right side of your gun.


*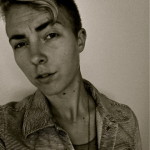 Meg Day is a 2013 recipient of a National Endowment for the Arts Fellowship in Poetry, three-time Pushcart-nominated poet, nationally awarded spoken word artist, & veteran arts educator who is currently a PhD fellow in Poetry & Disability Poetics at the University of Utah. Meg hails from Oakland where she taught young poets to hold their own at the mic with YouthSpeaks & as a WritersCorps Teaching Artist in San Francisco. A 2010 Lambda Fellow, 2011 Hedgebrook Fellow, & 2012 Squaw Valley Fellow, Meg completed her MFA at Mills College & publishes the femme ally zine, ON OUR KNEES, out of Salt Lake City. A 2012 AWP Intro Award Winner, Meg's most recent work is forthcoming from Troubling the Line: An Anthology of Trans & Genderqueer Poetry & Poetics, This Assignment is So Gay: Poems from LGBTQ Teachers, & in the chapbook, When All You Have is a Hammer, planned for publication in 2013 by Gertrude Press. www.megday.com.




***
goldfish for example in proximity
goldfish for example in proximity to reports of
young men
shooting young men, alleged mummed-up
gang crime, the God of
the imagined appendage to God imagines
prayers as goldfish―
for example, in relation to goldfish, fixture―
in relation to fixture,
incanted prayer―goldfish in relation to the
actual business
performed around them― incanted relation
and proximity becoming confused―
boys in mug shots, numb, confused, memory-
fused goldfish swimming
blankly, so incanted, their irresistably jeweled skin,
like painted tin goldfish,
then like actual fish, like boys' eyes then like
blank eyes, clear-
rimmed, reported, the glass of containment
and the glass of prayer
becoming contorted, tens of thousands of
children and then,
reports of young men shooting young men,
I lived in proximity
or I lived in relation to report, to courses of
mayors and parishes arriving
in lists, the news making fishtank of this, glassed-in,
in proximity, adrift,
what's an appendage of spirit? why the attachment
to fish? what anyone chose
to sing of a boy and what was sung, beside him,
in proximity, too late—
the relation of Emerson's imaginative light
to fixed, blunt thought,
beings as mere examples, for example, of mugshots, of incanted actual goldfish
shining in relation to what they're not, fin-sheen,
float-eye― stop―
the caught-fight carried in sound through water,
unrelated families
of young men having shot young men, gathering―
in relation to reported
shootings, glass, in relation to witnessed goldfish,
broken skin―
relation and proximity becoming confused,
actual men,
actual men,
the relation of goldfish to the actual silence of
spirits around them―beside them―
there, there, there — the God of the imagined appendage
to God imagines
animals before they are themselves, imagines prayers as goldfish before
they are prayers, imagines young men before they
are young men, merely

*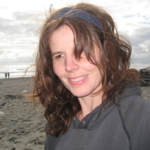 Endi Bogue Hartigan's manuscript chorus [interstice] was a finalist for the Omnidawn First/Second Book Prize. She is the author of One Sun Storm (Center for Literary Publishing) which was selected for the 2008 Colorado Prize for Poetry and was a finalist for the Oregon Book Award, as well as a recently released chapbook out of the flowering ribs in collaboration with artist Linda Hutchins. Her poetry has recently appeared in Colorado Review, VERSE, VOLT, Chicago Review, Pleaides, Peep/Show, Yew, Peaches & Bats, and other magazines. With a collective of poets she currently co-curates the Spare Room reading series, and participates in 13 Hats, a collaborative group of writers and visual artists. She lives in Portland with her husband and son, and works for the public universities.





***
Indian Casino

The salt flats await day like an unfettered page
in a hymnal. A fluttering after light.
You had wanted to be ravaged by this, and love.
What lesser concerns they seem now, discreet
functions of whiskey and television willing
to laugh for itself. Out here a diminished note
seems ready to break over the mineral deposits,
the record of a governing absence, the limit condition of water.
The little plank of the body too bears a telling:
the faint recognition of your name in the restroom
of a gas station. You must tell yourself
that this is a survivable life. That one might
even want it. You will think of becoming that person.
In a few hours the Indian casino will open.


*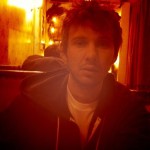 Brandon Kreitler's poems have appeared in Conjunctions, Boston Review, Indiana Review, Maggy, Cutbank, DIAGRAM, Sonora Review, Eoagh, and others. A chapbook, Dusking, is out from Argos Books. He's from Arizona and lives in New York City, where he teaches English at the City University of New York.






***
Sans Serif

The firewood is whistling but what about one of these iconic
Trees? Sunday
Clung to the pools
On the mountain. Everything on
The outer banks had a thriving sideline & you have to understand
You don't
Per se what is happening when it hisses.
A clatter of dishes rises between voices & an online video of rat-tat-tat.
Last night read "Childe
Rowland to the Dark Tower Came" & did not once
Think of atoms. Breakfast
Ensues in regal
Kisses, a laugh like a windmill breaks between the turbine
& titmice clamor to replace
Grammar. My
Teeth need cleaning. So do my teeth.
Vehicles pass through meals of light. One's instincts evolve this is
No diary.


*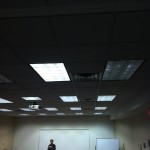 Daniel Poppick lives in Iowa City. His poems have recently appeared or are forthcoming in BOMB, Colorado Review, Denver Quarterly, Handsome, and The Claudius App. He teaches English and creative writing at Coe College and edits The Catenary Press with Rob Schlegel.