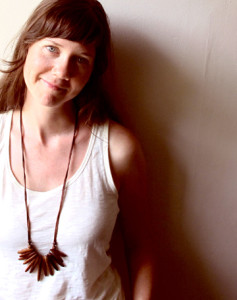 Mary Austin Speaker is the author of the chapbooks The Bridge (Push Press 2011); 20 Love Poems for 10 Months (Ugly Duckling Presse 2012); a collaborative play, I Am You This Morning You Are Me Tonight, written with her husband, poet Chris Martin; and Ceremony, winner of the 2012 Slope Editions book prize. She co-founded the Triptych poetry reading series in New York City in 2008 and curated the Reading Between A&B series for several years. Recent poems appear in Forklift, Ohio, Iowa Review, Boston Review, epiphany, Lungfull, Amerarcana, and elsewhere. Her critical work has appeared recently in Pleiades, Painted Bride Quarterly and elsewhere. She lives in Iowa City, where she operates a tiny design studio.
Lisa Wells is the author of the chapbook BEAST (Bedouin Books 2012) and Yeah. No. Totally., a book of essays (Perfect Day Publishing 2011.) Her work has appeared places like Portland Review, Ecotone, Coldfront, The Rumpus, Plazm Magazine, and here at OmniVerse. She lives in Iowa City.


A poem by Mary Austin Speaker follows the interview.





LISA WELLS: So. Let's start at the start. How did you first come to poetry?
MARY AUSTIN SPEAKER: I came to poetry through a combination of religious experience—practices of ceremony and ritual—and reading Walt Whitman and ee cummings when I was a kid.
Walt Whitman totally shocked me—the sexual, highly personal and communal nature of his work. There was a kind of gathering that he was doing that seemed totally revolutionary to me. My love for ee cummings it was, I think, purely musical. I don't read much ee cummings anymore, but I've come back to Whitman, and to Dickinson, for their moral complexity and outrageous imaginations.
ee cummings and Walt Whitman and church services all revolved around an intersection of the spiritual world and the social world that I really liked. I think that I've been following that thread for a while.
LW: Was your family Catholic?
MAS: My father was raised Catholic and my mother was raised Episcopalian. I was raised in the Episcopal Church, but my family was never overbearing about it. Religion was a very private practice in my family, despite the fact that we attended church together. Episcopalians are a fairly ritualistic people. The same liturgy is said at every service, there are cues for kneeling and standing and sitting and singing. The service is modular, with only particular parts changing from week to week. This leaves you with these parts of the liturgy that are very poetic, many of them employing heavy anaphora, which the title poem of my book employs. I've still got most of them memorized…
LW: Do you feel the music of that liturgy in your work?
MAS: To some extent, yes. Every now and then I'll discover a line I accidentally stole from the Bible. I felt very strongly about religion when I was growing up, and I moved more or less directly from religion into poetry when I left for college. In junior high and high school I was deeply religious and focused a lot of attention on being part of that community—going to retreats and meetups with church friends—and finding meaning through that. Eventually I found a community in the poetry scene in New York by hosting and attending readings, which felt similar enough, it soothed the same urge to be around people and listen to someone speak.
LW: Where did you grow up?
MAS: Dallas, Texas.
LW: And college?
MAS: I went to Boston University for my first year and then transferred to Emerson College to join Emerson's creative writing program as an undergrad. There, I earned my BFA in Writing, Literature and Publishing. I knew I wanted to move to New York and get into publishing and work at something that would put me close to poets and poetry, and Emerson was able to address that desire very directly.
LW: Was there an important teacher to you at that time?
MAS: I had several teachers who encouraged me quite a bit and that was a big awakening for me as a student, because in high school and junior high I had always been a middling student, a bit too stuck in daydreams to concentrate on anything for very long. Bill Knott was an incredible teacher—hard, but rewarding. He was kind of like a unicorn for many of the students there—reclusive and strange and mysterious. I studied fiction with a wonderful teacher named Sibyl Johnston at Emerson who was very supportive. She wound up publishing one of my stories in an anthology. That was the first time I had ever been published. She was deeply invested in the work of her students. And my first teacher at Emerson was Peter Jay Shippy, whose work I'm still following. He introduced me to a great number of poets that were very important for me—Denis Johnson, Russell Edson, James Tate, to name a few. And I was in the same class as Russell Dillon, who gave me books upon books and who, I hope, will publish his own soon. He's a great poet. He was always saying, read this, read this. It's so important to have friends like that.
In some ways, Emerson was a difficult place to be an undergrad because they have a fantastic graduate program. As an undergrad you're taught by the same professors, but you're given less of their time. That was frustrating for me because I was very serious when I was 19 and 20.
LW: Looking back, I think my energy level for poetry was the highest at that age.
MAS: I had a great deal of energy for poetry then, too, but I think I was still in the teenager stage, reacting against things without any real ambitions about what I wanted my work to be in the world. I think I needed to be in the working world for a while before I could really appreciate the luxury of being a student. The MFA allowed me a lot of time to teach and edit and generate a ton of new work, and spend time in the library and really think about what I was trying to do. But I think I learned the most from editing the Indiana Review and running a reading series.
LW: Talk about that.
MAS: I left Emerson for New York and worked there for HarperCollins for about four years. Then I went to Indiana University, edited the Indiana Review and earned my MFA. I came back to New York after three years, and Mary Donnelly and Megan Cleary asked me to take over curatorial duties for the Reading Between A & B poetry series, which had been going on for several years at that point and was bringing in some important poets—Louise Glück was one of the first readers when I began curating with Kaveh Bassiri and Jon Thirkield. I was thrilled to be asked, and had a lot of energy for it. The format of that series paired emerging and established writers. Because we didn't pay the readers anything, and because we wanted to support the emerging writers in a way that presented their work as being on par with established writers, we would write these lengthy introductions for all the readers, to open some doors for the audience. We tried to rise to the challenge each time to get everyone in the audience to really hear each reader.
It meant we had to talk about the work of poets we didn't know well in front of them, and that was an immensely helpful learning experience for me. I don't think in an MFA program you're necessarily going to be as keyed into contemporary poetry as you are if you're actually in a poetry scene, hearing people read new work.
LW: It's different to be reading in the spirit of an introduction than to read for workshop purposes.
MAS: Yes—this distinction is key. I think good criticism comes from a very positive, informed, imaginative place. And I think editing a journal is somewhere between workshop and criticism. Each involves a kind of curating. I've been fortunate to have had all of those experiences. From workshopping—helping to craft particular poems and choosing words, to editing—choosing individual poems, to curating a reading series—choosing the poets themselves, which can feel like a much larger endeavor than simply choosing one of their poems for an issue of a journal.
LW: What were you doing in NY those four years before your MFA?
MAS: I worked as a book designer for HarperCollins—I designed the interiors of all kinds of books. When I came back from the Midwest I worked for Simon & Shuster for two years, then went back to Harper Collins and took over art directing at Ecco, which is one of their finest imprints. I love Ecco.
LW: It bears mentioning that you're a well-known designer as well. Any thoughts about how that's affected your writing, if at all?
MAS: I think having access to texts that I wouldn't normally have around and being deeply immersed in them has been very helpful for me. I'm always happy when I have some kind of heterogenizing force in my life, whether it's editing or running a reading series or working as a designer. If I have a constant influx of new work that I don't know much about it's helpful to me, because I think it helps me either reaffirm the position I'm holding in my poems or consider a different position. Just seeing how someone puts a poem on a page can open up new doors.
I had an experience at HarperCollins where I was designing a John Ashbery book—Where Shall I Wander—and he had handed in a hardcopy manuscript without a corresponding digital file, so I had to type out several of his poems in order to put design samples together. I'm sitting there typing them out, thinking, I can't believe this is my job. I had many moments like that at HarperCollins. He'd written all the poems in these long quatrains, and I loved the conversational quality of it. So I started writing long quatrains and I stuck with that form for about a year and a half.
LW: It got inside you. Like Thompson retyping Gatsby.
MAS: Yes. There are poets whose work I've designed where you have to get very involved in the work—Steven Motika's book, Western Practice, for instance. The poems are all over the page, and in order to work with it you have to look at the text in the manuscript next to the text in the design document and really push words around until they're in exactly the right places in relation to each other. Watching that happen is a little bit like looking at a piece of visual art, because they're not in lines, they're in something more like clouds. Seeing how those things constellate is really wonderful.
LW: Let's talk about your chapbooks. When did they come about?
MAS: I published two of my own chapbooks first because I wanted to be able to distribute something of my work. I was taking a letterpress class at the School of Visual Arts in 2009. I had just had five poems about a cowboy accepted by Boston Review, so I decided to make a little book out of them, called In The End There Were Thousands of Cowboys. There are only five poems in it. I made about 50 of those. Then I made another one called Abandoning the Firmament, which was a suite of astronaut poems.
LW: That's a good pair!
MAS: Thanks! There are more where that came from in the third manuscript I'm working on, tentatively titled The Universe Is Shaped Like a Saddle. After I put those together, I began writing a poem each time I crossed the Manhattan Bridge on the subway. My friend J Grabowski (one half of Push Press) suggested publishing a chapbook of some of those poems, so we put about 30 of those together and published it as The Bridge. J's a fine artist and he makes paintings and all kinds of things—he contributed a fantastic gestural drawing for the cover that spans the front and back. Andy Wolf made this beautiful pale blue cover stock just for the book. I'll show it to you. You have to feel it. It's soft and thick and spongy.
LW: Ooh, it is spongy? Cool.
It must be difficult as a designer when so many prestigious first book prizes or chapbook prizes—the books are often so ugly. Like, gratuitously hideous. I can't imagine the pain, being a designer, when you don't know what clothes they're going to come out wearing.
MAS: Well, luckily or unluckily, most small presses that I'm liable to publish with don't have a lot of money, so they're happy to have me do all the design work, and I'm happy to do it. I published with Ugly Duckling, and all their books are gorgeous, so that was a fantastic experience. I wasn't nervous for a moment about what that book would be wearing.
LW: Ceremony won the Slope first book prize, judged by Matthea Harvey, and you also had a chapbook, 20 Love Poems for 10 Months, come out from Ugly Duckling. Basically, you've had a hell of a year.
MAS: It was a really intense year. I mean, I'm 35 years old. I've been sending poems out for a while. I didn't expect it all to happen at once, but I couldn't be happier that things began coming together.
LW: Do you feel something shifted in your work that people are responding to?
MAS: I do. I think I was finally able to wrestle my poems into groups that were more potent than the individual pieces. And a lot of that was getting together with Chris [Martin]—recognizing how he works, which is totally in series. He funnels all of his energy into a particular form or a particular type of poem until he's done making a book. Then he moves on to a different book. For a very long time I'd just been writing something when I felt like it, or writing something when I was moved to write it. Both The Bridge and 20 Love Poems for 10 Months were conceived as entire projects before I started them.
There are two ways I think that poetry in series works well, in terms of getting people to pay attention to the work. It makes the work accessible, and it's more experiential at readings. I started thinking about that when I was reorienting Ceremony and putting it together in different ways. The cowboy poems and the astronaut poems were in that book a long time ago and I had to take them out because they were too different. It took me a long time to reckon with the fact that they needed their own manuscript. So Ceremony became a vessel for my newer work.
LW: So, how do you think about Ceremony, how would you describe it?
MAS: I think the shift from religious experience into civic experience and poetry is probably most evident in that book. Take the poem "The Feast"—that was written as an occasional poem for an arts funding dinner some friends of mine and I held in a church basement in Brooklyn. My friend Jeff Hnlicka, who founded FEAST (Funding Emerging Arts with Sustainable Tactics), asked me to write something. "We need some words," he said. At the first FEAST, I read Gwendolyn Brooks' poem "The Bean Eaters", because we were having cassoulet. It's a beautiful poem. And I read some other people's poems, but they seemed less and less relevant. And then I thought, I'm a poet, I should be able to do this right. So I wrote that poem. There were a lot of tears. The poem killed. "The Most Vibrant Forms Are Emergent Forms" was also written for FEAST.
I was very inspired about what was happening with FEAST. The founders had a very earnest desire to create an alternative, community-based economy for funding art. It was community gathering and the creation of community, which can be hard to find in New York, where so many people are transitory, or entrenched in their own scenes. That we were able to have it in a church basement made it that much cozier. When we were plotting FEAST in the first place, we talked about how much we wanted to hang out in a church basement because we all had these very warm, abstract associations with those places but none of us were particularly religious anymore.
LW: There's always AA, of course.
MAS: True! We didn't think of that…
We wanted a place to practice a kind of secular spiritual community. That's where a lot of the poems came from and that's why I called it Ceremony. Even love poems have a certain secular spirituality—relationships engender rituals, mystery, moral choices. I think this is true of civic life, too. Many of the poems in the first and last sections of Ceremony are interested in how we regard people in positions of power, how we regard living together in cities, how we regard the decision to move to a new place. These are all very secular things but they cast profound emotional shadows. I don't think that secular people have many places to process those things together.
LW: The poems in the beginning of Ceremony, there's gentility in the speaker's regard of these masses of people living together. That seems new to me.
MAS: What do you mean by gentility?
LW: I guess there's no implied vitriol. I never feel that the masses of people would do harm.
MAS: Most of the time I lived in New York I was constantly amazed by the civility of New Yorkers—as in, I can't believe all these people aren't murdering each other right now. You have to deal with quite a bit of adversity to live there. A friend of mine used to say it's like being at the Olympics, all the time. Like just getting around.
LW: I find it exhausting.
MAS: It's tremendously exhausting. The overwhelming civility of New Yorkers is extraordinary, given how hard people have to work there, just to be a person…but when you fall down, people help you get up. People will give you directions when you're lost.
That said, there are certain codified behaviors that New Yorkers adopt in order to function together. Being on an escalator, for example. People who want to stand on the escalator stand to the right and people who want to walk on the escalator walk on the left. This is how it works. And when that system breaks down, people get frustrated. But that's the main way you see people being angry in New York—when these little modes of behavior break down.
LW: You can imagine the repercussions should it become systemic.
MAS: Chaos! I guess there's something that's a little bit fascist about all of it—everyone has to behave the same way in order for all of us to get along. But I think there are certain ways in which that's true.
LW: Some of the poems are almost Whitmanesque—everyone / in the everyone song. // together / we can do anything. There's an optimism.
MAS: But I think there's a darkness to it also, because we think we're capable of doing anything as a group. The strength of the group is capable of both great deeds and great crimes. As Americans, we throw bombshells and baseballs. Both of those things are mentioned in previous lines of that poem. I'm very invested in holding the dark and the light together at the same time and just standing back and watching the tension happen. It's both terrifying and amazing at the same time. I think Whitman was aware of those things.
LW: There's a way of relating to the natural world throughout the book, that's not childlike as in "childish," but animist. Clouds and animals and trees and people are on equal footing. It's like, whatever can be said about the civility of humans can be extended to everything.
MAS: I think that's probably a place where I'm most skeptical of my own ethics in this book, putting humans on the same footing as all those other things. In some respects humans should be regarded that way, and I do regard humans that way, but in other respects there's this really outsized balance of power where humans are able to affect the non-human world in a way that doesn't correspond to the abilities of other animals. We act. Other animals react. But the oceans, they act. And the weather. This is where you see the balance of power get very dramatic. I think this will play out in increasingly dramatic ways in the coming years.
I'm very aware of the mystery of the natural world and have a lot of respect for it. I'm amazed by the fact that every year around 20,000 new species are discovered, although it's worth noting that we lose a thousand more to extinction each year. I find the drive to catalog everything tremendously arrogant in a constantly changing world where new things are always being created—because that's the nature of existence; mutations happen, adaptations happen. That said, I'm wary of my amazement overshadowing my awareness.
LW: I sometimes fear I have the opposite problem. It's easy for me to talk about the grief, but not as easy to involve the reader in the experience of why we want desperately to save these things.
MAS: Saving—I back away from terms like that—because it seems so human-centric, as though we really had that kind of power—but at the same time it also seems like we must recognize that we have to take responsibility for human actions that are destroying nonhuman populations. I think recognizing the significance of the nonhuman world— animism, if you wish—can be part of that recognition. I hope my poems move in this direction—placing humans on equal footing with animal, mineral, vegetable. Hopefully that's a start.
LW: Let's talk about the love poems. You've talked about them a little bit, what they can mean in general, but your books are dedicated to your husband, who is also a poet, and his books are also dedicated to you. I want to be careful about focusing on him because you are your own artist, but do you feel any reticence about the fact that he is a public figure, at least to your audience?
MAS: Not at all. Mainly because of who he is—he's a tremendously open person, and he absolutely embraces being part of the poetry community. He enjoys being the subject of a lot of my poems. It's my gift to him. I think that he considers his poems for me a gift in the same way. Not only are we people to each other but we are people in the poetic universe.
I feel strongly about writing love poems as a woman. The discourse surrounding it is less discussed than the discourse around men writing about women. I like the idea of being able to affect that. So writing poems that are explicitly by me—a woman, about a man—Chris, it is a deliberate move.
LW: Who do you think of when you think of women being romantic?
MAS: The person who springs to mind most immediately when I think about writing about love is Anne Carson, though I don't know that I would call her romantic—her tone is too removed for that. But she wrote The Beauty of the Husband, and most of Plainwater is dedicated to a man she refers to as 'my Cid', a reference to El Cid, the thirteenth century Spanish epic. I relate to those books quite a bit. Marilyn Hacker has definitely written some incredibly romantic love poems, as has Adrienne Rich, though these were both women writing to women, and of course there is Anne Bradstreet's To My Dear and Loving Husband, and a great deal of Sappho, though I'm not sure whether she wrote about men or women or both. But she did write a great deal about love. I'm sure I'm woefully under-read when it comes to women writing love poems about men, but I don't see a lot out there today. I've certainly been inspired by the freedom Adrienne Rich employed in her love poems. I think straight poets can learn a lot from gay and lesbian poets in that regard. When I think about poems about love written by women, a lot of analytical poems come to mind, but not so many all-out love poems that really celebrate love. Do you know of some?
LW: Maybe readers will respond with their favorites… It's funny that love poetry has become associated with masculinity. The whole hetero dyad of male pursuing female. I've always been a romantic, in real life, but I don't know that I am in my poems. As girls we're taught to be doe-eyed and dreamy at the window, looking at the moon and longing, but that's a different thing. It's not active, it's internalized.
MAS: Right. Totally. As poets we shy away from the kind of expected behavior of demonstrating love, but there is something that feels a little bit radical about carving out a different space that is really shared, not rooted in pursuer/pursued.
LW: Had you been submitting Ceremony to many places?
MAS: It started out as my Master's thesis and now I think maybe three poems in there are the same… It's funny you say there's no vitriol, because the name of the thesis was Sweet Vitriol, which was another name for ether. I probably started sending that book around in 2007 or 2008, so it's been at least four or five years that I've been sending it around.
I'd had three friends read it, and each had the same reaction, which was to say, "You have two different projects here." I hadn't actually written a book, I'd written two halves of two different books, and that was deeply frustrating because I'd been writing for such a long time. I just had to be patient and wait until I had accumulated enough material for one of these projects to be completed first.
LW: You've worked for so long to aid and abet the work of others, I'm curious… I guess this is a little like asking Miss America, How did it feel when they placed the crown on your head? But, you know, how did it feel? Did Matthea call you?
MAS: Chris Janke called me from Slope, right before Chris [Martin] and I got married, so it was a big year in a lot of ways. He called and asked if Ceremony was still available. And for a minute I thought he was asking about a particular poem, the title poem, and I was a little confused and didn't understand what he was asking me. Then I got it. I was thrilled. I think Slope is a fantastic press.
LW: Okay, last question. Possibly too personal. Does God inform the poetry?
MAS: The word I use is "supplant." I feel like poetry supplanted religion for me. But each of those practices springs from the same urge.
LW: What is the urge?
MAS: The urge? Community, togetherness, not being alone, listening, humility—those are all the same thing to me, in a way. I think reading a book is a way of not being alone. Writing a poem is a way of not being alone. Going to a reading is a way of having a community. Commenting on poems and reviewing books are ways of having community. Poetry offers me some of my deepest appreciations about going to church—having a group of people that I could always see and find out about their news and ways of seeing. Having a space to sit down and listen to someone else speak. Being able to experience something complicated and surprising together. Poetry readings, if you're in a place where they happen enough, feel like that.


***
The Field of Unspeakable Color

No one had said
how to thrive
so we lived packed in
incandescent
peopling the romance
of matches and dusk
to resound in a pocket of wind
was to perform our formlessness
unidentified feathers
among the petroglyphs
receipts littering
the stadium's slope
we watched our backs
watching others watch us
and our looking
became a fabric
a flag
we sewed
our doors together
to make it brighter
stronger
we stood
in a field
of unspeakable color