from All the Rage
THE HORROR OF APARTMENTS

Watchwords of another life, fade one into the other.
In my own dream. In captivity.
If desire to escape, could escape
but it builds around it
in sequences of robes, bougainvillea
chambers rearranged
to suit
The way a comfort comes close. And wounds itself with worrying.

Shades of gray, bleed black
against the masks
interior face, immured
as skin does
in decline, the matter of waiting
wears out the resting place
the boundaries and edges see to see where none exist, the face
based on experience
rests here with me within
In my own dream. Another.
Double takes the enclosure, buries me
in its other self.
the angles are everything
Not one another, nor self to stand
sentry against. It catches it in close quarters
ground down amongst the mirrors
salt to salt
to air, revolving shadows
appear to reverse
In the soft space, the dream space. It turns and turns
at arm's length




---
"The Horror of Apartments" is part of a series-in-progress titled All the Rage. These poems are written in correspondence with various 'hagsploitation' films of the 1960s and 1970s. The films star A-list actresses who, as women over 50 in Hollywood, were retired to lead roles as unhinged, hysterical, homicidal maniacs.
---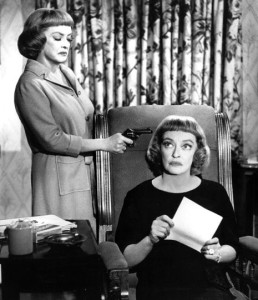 E. Tracy Grinnell is the author of
Some Clear Souveni
r and
Music or forgetting
, both published by O Books.
Helen, A Fugue
by Grinnell and
A Pear / Actions Are Erased / Appear
by Leslie Scalapino were published in volume #1 of the Belladonna Elders Series. A conversation with Scalapino included at the end of this book is viewable online:
lesliescalapinotribute.wikispaces.com/file/view/E+Tracy+Grinnell2.pdf
. Recent writing is collected in the manuscripts
Hell Figures
and
portrait of a lesser subject
.