The Easement

The street's black with drifted snow
& it's what's to fold night around, the hunger
of the motel sleeper
the entaxied talker searching for
a good curb to piss at in shadow—
some laughter under owls, some
old gas station in Las Cruces returning
a dumb fighter in love to another one loved
now elsewhere, & better.









The Easement

I'm not afraid of the sentries
but I am frightened by their jawing
their kicks to their dog in the hall.
The little thread of spittle that sinks
a dollop to collar as they sleep
into a drool, stiff as a board plank
weighted, agleam, trenched
with a stranger's watch & the wrist
too that they took it from.








The Easement

How did I dare to think you might come back?
Through a vent?
Through a vent in a dream's sewage
of short work for tearing down the grid
with one bash at a time?
What's returning us?
This wet, bee-quiet night
of stone milk?
What's the night when
retiring the words won't now work?
Can you say it aloud in me?








The Easement

At the hour when the moon appears in its city
I wait for a vision to spurn me
keep me lost in a bed sweat, the beer
& a no-hitter highlights on. What vision?
Into a Yonkers park edge enfolliating
above two gas stations & a waste lot?
What vision to know the heart's work of?
That little shell of mercy
called a tap?








The Easement

One can't wait for death, one must sleep
& so court what the body sloughs us off with.
So linger a bit in your skin & your bones
& your blood & the mind's easy way
of doing itself away withal.
Just blunt arrhythmia, focusing us in on
something new to withstand.
The music's on, but what did I learn?
Burning. I learned burning.




---
These poems are from a series that draws on various lines in various translations—of Mandelstam's poem, where each Easement's first line comes from. Others are out or coming soon in Denver Quarterly, A Public Space, Typo, Pool, and Hotel Amerika.
---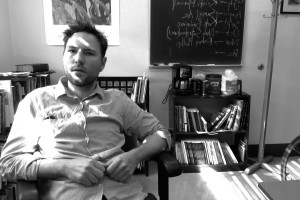 Joshua Marie Wilkinson's newest book is called
Swamp Isthmus
(Black Ocean 2013). He lives in Tucson, where he edits
The Volta
and Letter Machine Editions.