Violet's songscapes
(an introduction by Rusty Morrison, January 30, 2020)
To offer a moment of background:

I was lucky to meet Violet on the rooftop of Prop Theater in Chicago, a concrete space with green potted plants and a long view of buildings and birds and weather, a place where artists and musicians go to watch the sunset and then see the oncoming stars. I can hear this environment echo in her music, one of so many architectures that she offers in her songs—concrete limitations giving way to expanses that might frighten and yet yield, and yield, and yield, what enlivens the senses and opens the heart.
What I first learned of her energy happened there, as I listened to her talk with frank, provocative candor, words carried by a voice already, to my ear, beguiling.
Little did I know, at that first chance meeting, that her music could find me—in the places I allow almost no one. Yet that is where her lyrics go; they are, in some ways, so simple, so direct, yet the directness is a direction that is arrow-swift, and the mark they seek goes deeper each time I listen, and look with a kind of synesthesia of sound/sight, as I watch them move, and as I find the courage to follow. I believe it is, in part, the music of her keyboard work, which weaves the meanings of words into form beyond what words can convey.
For me, her music creates an energy-field that opens horizons in the heart, where new landscapes I hadn't had the valor to go invite me to travel, landscapes that have been my hearts' all along.
---
Violet performs: The Best
Violet performs: Flowers in the Basement
---
the
best.
I love the way
I hide how I feel
till I just can't
feeling so real so raw so constant
I don't want to hide anymore
suddenly I'm not falling through the floor
screaming till my soul gets sore
baby you and me
wanted to die
pretty much all of my life
but i don't try
because all of your goddamn love
keeps me alive
I don't want to hide anymore
cos I am right now not then not before
and karma is a carnivore
baby you and me
clear as the day
golden and blue
around you
right here right now
I know I found you
so fuck me in my pretty dress
help me feel like less of a mess
let me lay my head on your chest
baby we're the best
---
​flowers in the
basement.
crawling back to bed
sick with all the bullshit I've been fed
you're in my head, when I'm alone
I do what you say
nothing really matters anyway
and easy prey because I'm alone
alone
alone
alone
drag me up the stairs
I don't know how much I had, who cares
I get so scared
I get so numb
grab me by the coat
shove it really hard right down my throat
I barely choke
everything's numb
numb
numb
numb
hide my gaslight scars
stay inside and cry and count the cars
and feel so far
from being real
it's hard to heal in hell
black and blue and bloody blamed myself
screaming for help
at least I'm real
real
real
real
forgave you yesterday
the shit you did will never be ok
I'm strong and brave
and now I'm free
because I deserve control
now I love my body with my soul
I'm finally whole
I'm safe and free
---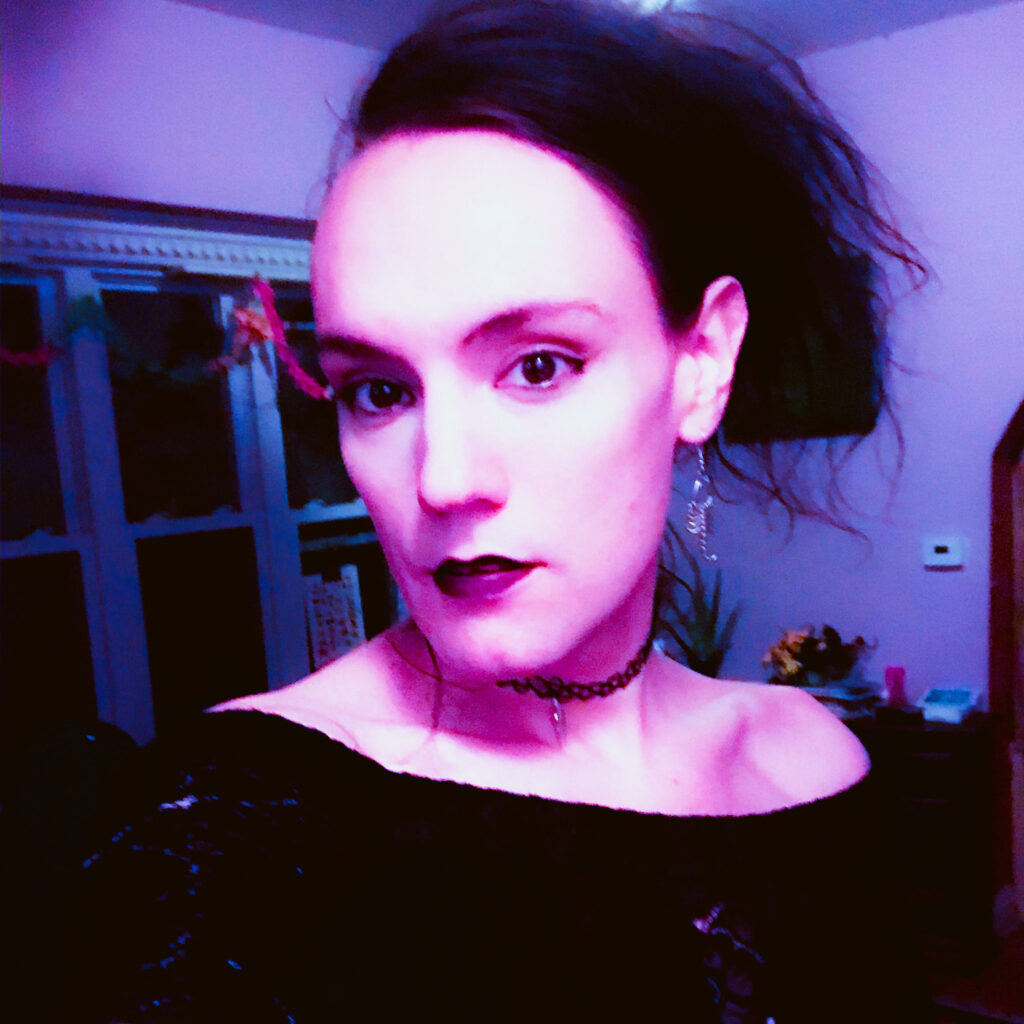 Violet is a songwriter/producer/performer based in Chicago. She has created and performed her own work since early childhood. Heightened reality and spectacle have always been at the forefront of her artistic practice, substantiated by honest and vulnerable expressions of her personal experiences. She received a BFA in Theatre Performance from Western Michigan University in 2010 where she focused mainly on acting and direction.

Violet is a transgender woman. She was diagnosed with DID (dissociative identity disorder) in mid 2019. She is one of several alters that occupy her body. True to form she is using her creative talents to explore and express her struggles and triumphs with her neurodivergence. She hopes, with her art, to help usher in a new age of compassionate representation of transgender and neurodivergent people in international media.