from Bad Romanticisms
"You can talk to Wordsworth but he won't talk back" —my husband
"I work on what I have come to call the long-ass nineteenth century" —Anne Jamison
"I don't want to be Jane Austen's friend, I want to be Jane Austen" —D. A. Miller
Romanticism (I)
Jane Austen had a kleptomaniacal
aunt. This is just another thing
we have in common, like we
both have a little too much
time on our hands, and find women
walking pugs humorous, and look
hot in motorcycle boots, despite
an overwhelming fear of motorcycles.
I tried to write hundreds of pages
about likeable unlikeable girls.
Jane Austen knew how to describe them,
but I just know how to be one.


Romanticism (XXXVI)
Who was Elena Adelaide?
A mystery in the timeline.
Percy Shelley's bastard child?
A replacement daughter adopted
to placate Mary Shelley's monstrous grief?
We don't know. We won't know.
We know she died.
We know she only lived that life once
or else she lives that life over and over
Elena Adelaide sounds like a baby
in an ergonomic carrier in Park Slope,
which is in Brooklyn. Remember
the couple dancing in front of us
at the show on Thursday night?
With her sharp features and shock
of hair & her red dress, a modern
Mary Shelley, her hipster husband
had less style, more bravado
they danced
while Elena Adelaide slept at home, perhaps
watched over by Jamaica Kincaid
in Williamsburg
or Greenpoint
or nowhere


Romanticism (XL)
So we went to Brooklyn to hear some music
we were in Greenpoint where Girls is set
& there was a Girls poster
in Greenpoint
it was Blakean
it was real life inscribed into fiction & fiction made mythic
& mythos carved into the stone with acid that burned away
what wasn't true in a print shop
in hell it was the marriage of Brooklyn & Reality


Romanticism (XLIII)
Leafing through a stack of CFPs, you find
one call for papers on the Romantic
period & whether it's over, & whether
we're post-Romantic, whether the Romantic
period is over yet.
But all the fractured moments
that kaleidoscope into a memory
of an ideology, can that…
Like glitter
was really in style
like maybe fifteen years ago
& it was in your body lotion
& your eye shadow
but glitter hangs on
& it's there when you visit your childhood
bedroom, stuck in book spines
to the margins you wrote your first poems in
to the prom dress you never dry cleaned
it's a shiny piece of petroleum
it's a thickening of experience
you catch it in the dust motes
it floats up & up & up






---
These poems are drawn from a book-length manuscript of irreverent, inaccurate, or otherwise "bad" responses to British Romantic literature. Taking as my starting point Wordsworth's 1800 claim that the lyrical ballads were an experiment in "the real language of men," I composed these poems from uncensored thoughts and afterimages. If, as some have argued, we might think of poetry as "overheard"—borrowing and simplifying a formulation from John Stuart Mill—then I wanted these poems to overtalk, to capture gut reactions to literary history and popular culture that, once blurted out, can't be taken back.
---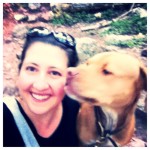 Rachel Feder is an assistant professor of British Romantic literature at the University of Denver. Her articles have appeared or are forthcoming in journals including
ELH: English Literary History
,
Studies in Romanticism
, and
Romantic Circles Pedagogy Commons
, and her first poetry chapbook,
Words with Friends
, came out in 2014 from dancing girl press.