First Verse is a series of conversations between David Koehn and another poet who has recently had a first book accepted or won a first book prize. These conversations navigate the process and experience of conceiving, developing, and bringing a first manuscript to its final form as a finished book.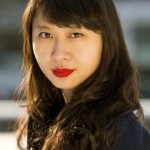 Sally Wen Mao is the author of Mad Honey Symposium (Alice James Books, 2014), the winner of the 2012 Kinereth Gensler Award and a Publishers Weekly Top Ten Pick of Fall 2014. Her work has been anthologized in The Best American Poetry 2013 and is forthcoming or published in Poetry, Black Warrior Review, Guernica, jubilat, The Missouri Review, and Washington Square, among others. A Kundiman fellow, she holds an M.F.A. from Cornell University, where she was a lecturer in creative writing and composition. She currently lives in Brooklyn, NY and teaches in the Asian American Studies department at Hunter College.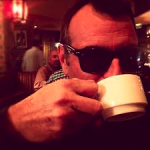 David's poetry and translations were previously collected in two chapbooks, Tunic, (speCt! books 2013) a small collection of some of his translations of Catullus, and Coil (University of Alaska, 1998), winner of the Midnight Sun Chapbook Contest. David's first full length manuscript, Twine, now available from Bauhan Publishing, won the May Sarton Poetry Prize. David's poetry has appeared in a wide range of literary magazines including Kenyon Review, New England Review, Alaska Quarterly Review, Rhino, Volt, Carolina Quarterly, New York Quarterly, Diagram and many others. David Koehn received his MFA from the University of Florida, Bachelors from Carnegie Mellon, is an essayist for OmniVerse, and Chair of Omnidawn's Advisory Board.





David Koehn: So, we're here with you and Mad Honey Symposium.
Sally Wen Mao: Oh yes, that's me [laughs].
David Koehn: And you can see all my, all my dog ears on the side, so — one of the questions I wanted to ask you, now here's this book, this Mad Honey Symposium, and for those who might not know, mad honey is a food item, honey, that's been — has — I think there's spores or has been infused with pollen from rhododendrons or flowers like rhododendrons, and it catalyzes into a drug, if you will, in the honey, and this mad honey causes physical reactions.
Sally Wen Mao: Yes, yes. The honey is made from rhododendron. When you consume the honey, you get intoxicated. If you ingest enough, you would start hallucinating and vomiting. There's all kinds of side effects.
David Koehn: There was also a side effect, or a theoretical side effect of being more passionate as well, is that correct?
Sally Wen Mao: Mad honey is a rumored aphrodisiac. In the study I read about the couple who ingested mad honey to revive their love life, they were listening to the advice of a shaman. So mad honey has a mythical quality — perhaps some magical elixir quality. But it's not an elixir. It will fuck you up.
David Koehn: [laughs] yeah.  And it may be the source of the myth of the nectar of the gods or something like that.  But apparently, heart failure, and intense sweats, and feelings of paralysis, strange and perhaps not great.  So my question, of course, is then have you tried mad honey?
Sally Wen Mao: Oh, absolutely not.  I'd be kind of curious if someone offered a spoonful to me. I probably would have to try it.  I mean, I wrote this thing.  But I can tell you the origin story of how I came to mad honey.  And that is kind of interesting.
So I was working on a manuscript in 2012, and I had a lot of poems about honey badgers, but I didn't think that this project I was working on was anywhere near what it should be, it didn't feel complete to me. And so, it was actually a few things that led me to mad honey, which I recognized later, was kind of the missing puzzle piece in the collection.
I was hanging out with some friends from Carnegie Mellon at AWP in Chicago that year.  At CMU, throughout my undergrad life at CMU, they had these field trips to AWP.  So to me, AWP was just an opportunity to just have fun and go crazy with your friends.  This year was special because I had been away at Cornell, and I didn't see my friends from Carnegie Mellon that often, so that year was kind of a reunion for us. So on Sunday night after everyone at the bookfair had packed their things and left, we just wandered around the book fair looking for junk.  And usually in years past, we found entire boxes full of books that people just left there. We didn't find that many books, but what we did find was this plant.  It was sitting right next to the trashcan, and it was this beautiful azalea tree in a pot, with flowers, pink petals, very lovely.
We rescued the azalea, and brought it back to our friends. And my whole group of friends, we're a little odd.  So we brought it back to our other friends, and they got so excited, they just flipped out.  The AWP dance party was starting up, and my friends were so excited they started eating the azalea flowers. They started plucking the petals out and eating them. We didn't question it.  We just said, oh okay, that's what we're doing. People were staring at us.  There was this woman who was shaking her head at us, judging.  But then by the end of it, like, she was down on the floor with us just like, eating the flowers.  It was just crazy.  Yes, yes, yes, yes, the azalea eaters.
So we brought this houseplant to the club with us, and we danced with it, and we got free drinks because of it, it was a really great night.
David Koehn: So, from the azalea to mad honey?
Sally Wen Mao: Yes, yes.  In this obsessive research I found that there's actually a honey that is made from azaleas and rhododendron, and that is mad honey.  So I then caught onto this idea of mad honey, a poisonous honey.  Ancient Greek texts describe the effects of mad honey, but in this very poetic way. Xenophon was a philosopher friend of Socrates, and he had written many different texts, including a text called Symposium, which is essentially just an exchange between him and Socrates.
David Koehn: I mean, from Xenophon, and the medical stories, and the sort of contemporary mixed with this — like, you talked about this nectar that is both mythic, mythic poetic, but also kind of deadly.
Sally Wen Mao: Yeah.
David Koehn: And it — well, number one, I wanted to thank you for eating the azalea because it led us to this —
Sally Wen Mao: [laughs] well, I should thank my friend Allison who did it first.
David Koehn: [laughs], which has led us to this —
Sally Wen Mao: Or I wouldn't have thought of it.  There were a lot of kind of these windfalls that led me to mad honey.  I really would describe them as windfalls because when I ate the azalea, that was the first windfall.  And then, I mean, it was a very potentially dangerous windfall. But later, I remember, I had already known about mad honey, and I was just walking in Cornell's science library. Sometimes I would look for titles that interest me because the sciences, plant life, animal life — there's just such a rich treasury of things that poets can use.
So I found a book, and I was just attracted to its title.  Its title was Plant Hunter's Paradise. I thought oh, that's an interesting title.  I opened the book, and in the book there was a description of this honey that was getting these people sick.  And here's the crazy, wild thing is that —
David Koehn: So this led to Mad Honey number 6, correct?
Sally Wen Mao: Yeah.  Yeah. So the book turned out to be written by this botanist, Frank Kingdom Ward, who was a rhododendron specialist.  And that was a complete coincidence. I took this book because I was interested in its title.  I had no idea that it held this entire saga of Kingdom Ward just journeying through southwest China toward Tibet, looking for rhododendrons.
I was looking at several passages in this book where there was this honey being offered by the locals, and whenever Kingdom Ward and his companions ate the honey, they would get really sick.  And then Kingdom Ward actually cited the he cited Xenophon, and the kind of ancient Greek texts about the mad honey.
This was in the 1920s, 1930s.  So it kind of unearthed this new geography of mad honey because in the ancient texts, and even the medical study that I found, all pointed mad honey to the region around the Black Sea, Turkey, but in this text, the mad honey exists in parts of Asia.
David Koehn: So this F.  Kingdom Ward text, and its stories of mad honey in Asia.  You found something in it to connect to, I take. And that —
Sally Wen Mao: Yeah.
David Koehn: And there's something allegorical or maybe not allegorical, but elusive in that botany story that you were able to mine.
Sally Wen Mao: And to me, there was also something that shocked me about that book — the descriptions of the locals, oh my god, they were so terrible.  They were described as ugly, boorish, primitive. This text was — in a sense, also about colonialism. I've always been interested in the intersection of colonialism and science.
David Koehn: Did that colonial text or that exploration of that colonial text by Kingdom Ward trigger Yellow Fever in any way?
Sally Wen Mao: Oh, no. Yellow Fever was completely different —
David Koehn: Okay.
Sally Wen Mao: Some of these poems I've written recently in graduate school. And some of them I wrote before that.  And Yellow Fever is a poem I wrote before that because it's kind of a more contemporary frustration.  Like, Yellow Fever is a slang that is used in pop culture now, you know, in recent years.
David Koehn: That's fair.  That's fair.
Sally Wen Mao: Yeah.
David Koehn: So, that is a creation story.  And I think that's incredibly compelling on a couple levels.  One is that you had been working in a trope with these honey badgers that are both talked about, and then un-talked about in your palinode where you disclaim these honey badgers, and then these bees that are throughout the function of the hive, and the queen.
And then, as you were working with those poems, there was an emergent of this serendipity that the prospect of chance —
Sally Wen Mao: Yeah.
David Koehn: — that — of randomness, sort of attaching itself to the intentional.  And the fact that you were simply in the open field, and the azalea showed up randomly, and danced with you at a night club, and didn't kill you, which is nice, we're really grateful for that.  And that the azalea transferred itself into a more sort of — I don't know if academic is the right word.  But into a research project, that led you into another step of serendipity.  And so these prospects of chance are kind of an interesting back story to the book.
Because I think that maybe some of our assumptions about the construction of our first books is that somehow it's all preplanned or what we intend is what it will be.  And —
Sally Wen Mao: No, I think that's a pretty false assumption.
David Koehn: [laughs]
Sally Wen Mao: Most cases, I don't know anyone who plans.  As a poet, you have to believe in the beauty of chance, right?
David Koehn: So I thought that was fantastic.  So with this great creation story about mad honey, and in particular, the — perhaps some of the history behind the azalea eaters, would you read us a part of the Azalea Eaters?
Sally Wen Mao: Okay, sure.
David Koehn: Do you want to do the whole thing?  Or is there a particular section that you are fond of that you think will dovetail with some of the conversation we've had?
Sally Wen Mao: Well, if you want me to read the whole thing, I can read it.
David Koehn: Let's do it.
Sally Wen Mao:
The Azalea Eaters
Daehongdan County, North Korea, 2008
Mother begs us not to eat the flowers.
We scrape the pots for blubber. Fat
scalds our dreams, broils our sweat.
Softly, azaleas kill our hunger.
Because we believe in pink spadix,
the fragrance pollinates our tongues.
Before the farmers bulldoze them,
we smuggle fistfuls into our knapsacks.
Now we are sick but only as sick
as the river that fed us golden tadpoles.
The river is a gutted diorama: the dire
wolf, awakening, spits out teeth and fur.
* * *
In our retching, we summon the aphids.
We enter the malnutritive night.
Stag beetles and horntails
swarm the wax leaves, calm
the poisons in our too-hot
cotton mouths.
In our fevers, we summon summer.
Weevils swim the length of lake. Toads
tease us with their fat slime.
No water makes us believe we have gills.
Frogs hatch from fuzz. We pity their birth.
* * *
It's the eleventh season of hunger. Ding dong,
belts the frog in the muck. Ding dong,
sings the salamander.
Fetal and feral, we curl
in our beds.
Fetal and feral, we drink
in the dusk,
hands damp with loam. Old cures
for sadness
don't work anymore—
* * *
ailing, we lean against the window,
mother's ailanthus,
& mother, panicked,
wilt on the sill. We grow red welts.
We ask her will we grow red whiskers.
We ask her will we grow red feathers.
She covers our mouths,
breathes hush hush. How will we fall asleep
now that the skink has grown a new tail?
* * *
We've eaten toad, weevil, roe. We'd eat a houseplant
or your pet. We've kissed poison flowers and retched
it all but we're hungry still. In the forest we pantomime
guns with our hands. Bang, bang: let's kill the deer, drag
it by its hooves to the fire pit. Gather its juices, grease
the grasses. Hunger strikes—our teeth, our laughter—
we'll eat & eat & eat: It's our rebellion and our disaster.