A regular feature of OmniVerse, Poets, Presses & Periodicals is a conversation with the publisher of a small press or periodical, a poet they have chosen to highlight, and one of our OmniVerse staff writers.
In this installment a poem and audio recording of the featured poet, Kristy Bowen, follows the conversation.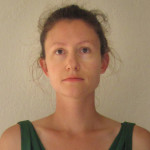 Pepper Luboff is an Oakland-based writer, editor, and artist with an MFA in creative writing from the University of Utah. Her chapbook And when the time for the breaking was published in spring by Ark Press. She is a regular writer for Drunken Boat and a reader for Zoetrope: All-Story. She also reviews art, in its many forms, on her blog Pigeon Review at pepperluboff.wordpress.com.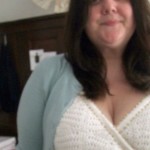 A writer and artist, Kristy Bowen's work has appeared most recently in Projectile, Birdfeast, and Stolen Island. She is the author of several written (and sometimes visual) endeavors, including the prose projects beautiful, sinister (Maverick Duck Press, 2013) and the shared properties of water and stars (Noctuary Press, 2013). She lives in Chicago, where she runs dancing girl press & studio. Her collection of poetry, girl show, is due out this fall from Black Lawrence Press.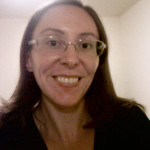 Kristina Marie Darling is the author of fifteen books, which include Melancholia (An Essay) (Ravenna Press, 2012), Petrarchan (BlazeVOX Books, 2013), and a forthcoming hybrid genre collection called Fortress (Sundress Publications, 2014). Her awards include fellowships from Yaddo, the Helene Wurlitzer Foundation, and the Hawthornden Castle International Retreat for Writers, as well as grants from the Kittredge Fund and the Elizabeth George Foundation. She is currently working toward a PhD in poetics at SUNY Buffalo.





Pepper Luboff: Noctuary Press's focus is expressly political. You publish works concerned with the intersection of gender politics and genre politics, bringing to light cross-genre writing by female-identified authors that is usually denied the legitimacy of professional publication. How do you see Carol Guess's F IN and Eva Heisler's Drawing Water expanding the boundaries of genre and developing an understanding of the connections between gender and genre?
Kristina Marie Darling: As the editor of Noctuary Press, I try to select titles that illuminate the connection between gender politics and genre formation in different ways. Eva Heisler's Drawing Water has been described as "a book-length meditation on the line," and in my opinion, the collection also offers very insightful discussions about the process of interpreting artwork. For Heisler, the artistic landscape is like the horizon, something that's always present, but its properties—particularly light, color, and perspective—are constantly changing. She prompts us to ask how one can offer fixed, authoritative interpretations of something that's shifting before our eyes. For me, these are subversive questions that get at the very heart of this issue of gender politics and genre formation. The notion of a literary genre assumes that writing, its conventions, and its manifestation on the printed page, are consistent, something that can be easily understood and mastered. Heisler presents us with an alternative understanding of literature as something that's always in flux and subject to constant revision.
Carol Guess's F IN, on the other hand, uses erasure to undermine the familiar tropes of genre fiction. F IN actually began as a work of YA fiction, which the author wasn't happy with and tried to revise for years. In the end, the YA novel was erased, leaving only shards of what had once been a linear narrative. Readers of YA fiction would likely expect a novel that relies on familiar tropes, allowing the reader to assume a more passive role. Guess's work prompts the reader to assume a more active role, to participate in the process of creating meaning alongside the writer. I love that Guess expands what is possible within the established conventions of genre fiction. For me, both books constitute an act of feminist resistance against genre categories and the structures of power and authority that allow them to be imposed upon us.
With that said, one of the best things about editing Noctuary Press is that I've had the privilege of seeing many very different answers to this same question of how genre politics influence genre formation. Since this is a concern that's central to my artistic practice as well, I've really enjoyed seeing how other writers approach the issue.
PL: So, Heisler makes genre stretchy by rethinking it as a process, Guess subverts genre expectations through erasure (a literary analogue for transitioning?), and your writing practice challenges power paradigms by way of genre reappropriation. Why does reappropriation serve you best in your practice, and what other genre-bending techniques are you interested in as a writer and editor?
KMD: In my opinion, genre reappropriation affords unique possibilities for creative writers. Most cross-genre writing simply blurs the boundaries between different categories of writing, whether academic, literary, or technical. Genre reappropriation does not simply render genre indistinct, or blurry, but expands what is possible within the parameters of a given genre. For me, this is important because so much of what is possible within a given genre is decided by those in power. I think of genre reappropriation as a means to democratize these discussions about genre, and to allow underrepresented groups (women, literary artists, and many others) to participate in a privileged theoretical conversation. With that in mind, I suppose you could say that genre reappropriation suits my goals when writing more than these other ways of challenging established ideas about genre. But I feel that it's difficult to draw a hard and fast line between genre reappropriation and other experimental techniques (such as erasure, privileging process over product, hybrid genre writing, and so forth). As an editor, I'm interested in all challenges to existing genre categories insofar as they serve the goals of democratizing theoretical discussions, fostering dialogue about the sociopolitics of genre formation, and social justice more generally.
PL: You've said that traditional marks of writerly success—such as perfect-bound book publication, awards, grants, and academic degrees—are important to your sense of legitimacy. I've been puzzling over this formulation of legitimacy; in a way, it falls in line with your ideas about reappropriation, but it also reinvests "those in power" with authority. Do you think there are other ways for women authors whose works aren't easily categorized to carve out a sense of legitimacy, or is legitimacy inherently conventional?
KMD: I think that it's necessary to work within the existing system to a certain extent in order to make change happen. Some people might say it would be best to create new values, new markers of legitimacy. But this isn't workable from a pragmatic standpoint. The old system would still remain intact, with all of its flaws and inequities. So rather than building something entirely separate, I think of the press as creating a revolution from inside the current structures of power and authority. To my thinking, this is a kind of reappropriation. Noctuary Press is taking the established markers of legitimacy, as well as the existing modes of production and dissemination, and expanding what is possible within them. By introducing new possibilities, new valuations, and new aesthetics within the existing literary marketplace, I believe that the press is capable of creating more substantive reforms than had we simply created something entirely new and separate from the established structures of power and authority.
PL: In your welcome on Noctuary's website, you say the press "strives to open up a dialogue among writers, reviewers, and readers" around genre. I was drawn to the inclusion of reviewers in your list, because it implies that publicity can have a political and intellectual dimension—that publicity, at its best, is advocacy. Can you speak to this? And what's your publicity regime for the press? I was impressed by the number of reviews and interviews you were able to line up for a fledgling small-edition publisher with two books.
KMD: I've been strongly influenced by Marianne Moore's writings on her time as editor of The Dial. Moore describes journals and presses as hosting an aesthetic conversation between writers, artists, and other thinkers. She coined the term "conversity" to describe the dialogic nature of poetry and the role of the magazines that publish, disseminate, and promote contemporary literature. But I don't think that this aesthetic conversation is limited to the writers themselves. This is one mistake that presses often make in conceptualizing their mission. The lines between creative writing, promotions, and literary criticism frequently blur, particularly when thinking of each literary text as an act of deconstruction, a reaction against the works that preceded it. With that in mind, I actively seek critical responses to work published by Noctuary Press. I've been delighted by the positive reaction we've received. Some reviewers and literary publications have requested one of each title, and I'm deeply grateful for their time and attention.
We also reach out to individual reviewers whose work we admire, and who share our interest in feminism and social justice. One thing I've learned from promoting my own books is the importance of reaching out to people in the literary community. The writing might be great, but people have to know it's there. So it's important to query online magazines, print journals, or even blogs about the possibility of features, reviews, or interviews for each book. We also ask each author to compile a list of at least ten people who would be interested in receiving a review copy. Lastly, I've learned that a little bit of professionalism goes a long way. Most small press editors are happy to help promote a writer, editor, or curator who's easy to work with.
PL: Have reviewers and readers of Noctuary books taken your cue to question genre? And, if so, what additions to the conversation have most surprised you? Have any of the discussions that have come of what you've published given you ideas for directions to take the press in the future?
KMD: While we're grateful for every reader and every review, I'd have to say that Anne Champion has written some fine reviews of Noctuary Press titles. I especially admired her review of Eva Heisler's Drawing Water, which was recently published in Bookslut. She writes, "In every image, she subverts our understanding of the binary, thus throwing the differences of oppositions into question at every turn. Everything that carries darkness must also carry light." I love that Champion's reviews are incisive, but also lyrical and poetic. Just as Heisler's book suggests that every poem is an act of deconstruction, Champion suggests that every critical text has the potential for poetry.
J/J Hastain's review of Carol Guess's F IN was also thought provoking. The review reads much more as an extension of the text itself. I absolutely love that this review resists genre, and simultaneously inhabits both creative and critical discourses. After reading these reviews, I'd be very interested in publishing a critical or archival project, or even a book-length engagement with another person's text.
PL: You're working on your PhD in poetics at SUNY Buffalo and you secured funding for Noctuary through your department. Before you introduce your author, would you speak about your literary family at SUNY? Who is Noctuary's support system there, and how have they guided you as you've developed your editorial process and perspective?
KMD: SUNY Buffalo has a thriving small-press community, with many student-run publications. This is great because I've had a number of role models, who are more than happy to offer suggestions. David Hadbawnik, who edits Habenicht Press, gave invaluable advice about the process of securing funding and proposing the press to professors within the department. I'm also grateful for the Poetry Collection at SUNY Buffalo, which regularly acquires student publications. It's wonderful that I can look at previous journals, books, and chapbooks, and see how other graduate students approached the book as an aesthetic object. There's a tremendous range within these student publications, including letterpress, handmade, and professionally printed books, so these other publications have been a wonderful source of inspiration.
Myung Mi Kim's seminars have provided me with valuable insight about the relationship between small presses and literary movements. Her seminar, "Experimental Women Poets," helped me see that the means of production and dissemination ultimately shape what literature gets published and, consequently, what books get written. I'm grateful to be working within a department that constantly challenges and interrogates traditional models of production, and the literatures that they make available.
KMD: Kristy, your Noctuary Press book, the shared properties of water and stars, is one of the best books I've read in years. I admire your ability to produce such stunning prose poetry while also running a thriving small press. dancing girl press publishes beautifully produced chapbooks, which are informed by your background in the book and paper arts. How does your practice as a publisher inform your creative work? In what ways has designing the chapbooks and crafting books as aesthetic objects influenced the vision you have for your own poetry and prose?
Kristy Bowen: I think spending a certain amount of time every day immersed in other people's writing has a definite (conscious or unconscious) effect on my work. I suppose being able to pinpoint what it is I like and want to work toward as a curator is invaluable in helping me articulate what I'm trying to do, or at least in helping me think about my own projects more objectively. As I worked more with the visual aspect of designing books, I was slowly beginning to move more in that direction myself, to the point where most of things I do now have either a visual impetus (for example a series of art that spawns a series of poems) or visual and textual pieces working in tandem. Sometimes one impulse comes before the other; other times, they're simultaneous. I love the process of making the cover art for other people's manuscripts from scratch (though we also sometimes use the work of other artists and artwork by the authors themselves). I spend a lot of time, as I lay things out, thinking about what works, gauging what the author seems to be drawn to (I sometimes do a little detective work by spying on authors' websites and blogs to find things consistent with their visual styles). All of these activities make me pretty focused in terms of how I want my own projects to manifest. I've been gloriously lucky that the publishers I've worked with (like Kristina and Noctuary) have either come up with awesome ideas themselves or been kind and indulgent enough to put my own work on the cover.


---
Click here to listen to Kristy Bowen reading from the shared properties of water and stars
From the shared properties of water and stars

THE blonde girl knows the way the inside of the rabbit man's mouth tastes. Like
soap or aluminum. She keeps track of the bears that clamor through each of their
houses each night. The big bear and the little bear in the sky. Bare bulbs dangle from
the basement ceiling where he takes her amid the '70s shag and the dirty laundry.
She follows him as he winds a string through all the rooms. Where he tethers the
string to the small sapling that grows in her chest. She forgets the word
for blue or salt or body. Lives in the limned dimness behind her eyelids as he traces
his hand along the underside of her thighs. She counts out her breath in intervals. 5,
6, 7, and the sky lights up.