A regular feature of OmniVerse, Poets, Presses & Periodicals is a conversation with the publisher of a small press or periodical, a poet they have chosen to highlight, and one of our OmniVerse staff writers.
In this installment a poem and audio recording of the featured poet, Frank Sherlock, follows the conversation.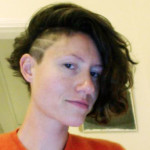 Pepper Luboff is a writer and editor with an MFA in poetry from the University of Utah. Her poems have appeared in Colorado Review and Projector Magazine, and her chapbook, And when the time for the breaking, was released last spring by Ark Press. She's written features for Drunken Boat and Poetry Flash, and she's a reader for Zoetrope: All-Story and Zoetrope's screenplay contest. She also reviews art, in its many forms, on her blog Pigeon Review.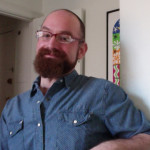 A former NEA Fellow, Brian Teare is the recipient of poetry fellowships from the MacDowell Colony, the Headlands Center for the Arts, and the American Antiquarian Society. He is the author of four books—The Room Where I Was Born, Sight Map, the Lambda Award–winning Pleasure, and Companion Grasses. He's also published seven chapbooks, most recently Helplessness, [ black sun crown ], and SORE EROS. An Assistant Professor at Temple University, he lives in Philadelphia, where he makes books by hand for his micropress, Albion Books.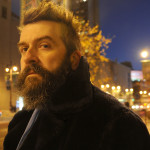 Frank Sherlock is the author of the soon-to-be-released Space Between These Lines Not Dedicated, Over Here, The City Real & Imagined (w/ CAConrad), and a collaboration with Brett Evans entitled Ready-to-Eat Individual. Por Aquí, a Spanish-language collection of works translated by Carlos Soto-Román, will be published in Chile in fall 2014. Poems beyond the page have found their forms in installations/performances/exhibitions, including Refuse/Reuse: Language for the Common Landfill, Kensington Riots Project, Neighbor Ballads, and B. Franklin Basement Tapes. Sherlock is a recipient of the 2013 Pew Fellowship in the Arts for literature. He is currently Poet Laureate of Philadelphia.





Pepper Luboff: I admire how your micropress, Albion Books, binds aesthetics with an eco-inflected ethic and practice. You've said you try to "demand as little capital and support from the earth as possible" by upcycling offcut paper and limiting your expenses for each print run of a chapbook and companion broadside to $100. Your press also focuses, in part, on publishing ecopoetic work. How did your writing and publishing become confluent with this movement? Do you see your work as a printer-publisher as harmonizing with the idea of wreading, which you adopted/adapted from Jed Rasula, your copanelist at the first Conference on Ecopoetics?
Brian Teare: I started studying printing and binding during the years I was writing Companion Grasses, and I also launched Albion Books during the composition of that book. Bookmaking seemed a "natural" extension of the ecopoetics I was interested in pursuing, which was in an important sense both bioregional and influenced by a regional literature. I'm thinking of course about the strong tradition of environmental poetry and ecopoetics in Northern California—from Robinson Jeffers to Gary Snyder to Brenda Hillman. But I'm also thinking about the equally strong tradition of book arts, small presses, and alternative press practices that have formed an important part of Northern Californian and Bay Area poetic tradition—William Everson was a master printer, for instance; Robert Duncan typed, copied, and self-distributed chapbooks during his publishing hiatus in the 70s and early 80s; and Lyn Hejinian typeset and printed her early Tuumba Press chapbooks.
I very much think of publishing as a kind of ecosystem, especially in the sense that it contains ventures of many scales that are interdependent in ways big and small, visible and invisible: from a chapbook sewn in the publisher's kitchen to a hardcover from FSG, each plays its role in forming and sustaining poetry as we know it, and each depends upon myriad industries. All of these book forms are tied to global and local economies through materials and labor and means of production—materiality is where publishing ecosystems most explicitly touch our local and global environments. I wanted to honor the ways books depend upon trees and trade, and presses upon metal and inks, by trying to reduce the amount of new resources I used up. And I wanted to think about the ways books participate in capitalism by reducing my dependence on cash and emphasizing gifting and bartering. All of these choices seemed related to ecopoetics simply by recognizing that each published chapbook is part of a much larger web of literary ventures, trades, and industries that support the finished product.
I don't know if anything I do as a publisher has much to do with Rasula's notion of wreading, especially since my version of it in Companion Grasses is an appropriation and recasting of his idea to suit my own poetics and poetic and philosophical traditions. That said, many of the poets most central to his study circulated their work through small presses and fugitive editions and understood the role of publishing in both aesthetic and community formation—and it is from Bay Area poets like Ronald Johnson, Joanne Kyger, Nathaniel Mackey, and others that I have inherited a way of thinking about and participating in poetry.
PL: I want to push back a little on your ideas around relational and gift economies. I hoorayed inside when I read your thoughts on creating countercurrents to capitalism by operating on the principle of limited resources (which you've linked to the idea of the limited edition) and engaging in noncash exchanges. But I've heard an argument against bartering and gifting that's a little different than the advice you got from your mentor at the San Francisco Center for the Book to price your letterpress work based on the cost of labor and materials. The argument was that we should charge for our creative work—maybe not "market value," but something—to go against the growing opinion that the arts are not valuable in our capitalist context. Gillian Welch's song "Everything Is Free" comes to mind.
BT: What a great question! My idea all along has been to participate in multiple economies at once, as opposed to committing myself to a conceptually pure anticapitalist practice that would be financially impossible for me and thus impractical both as politics and ethics. The press does after all need cash to continue operating, as I can't always source every resource for free—especially now that I'm in Philadelphia, and publishing larger limited editions than I used to. So I sell subscriptions to folks willing to support the press, and I sell to institutions like libraries and special collections willing to collect the chapbooks, and all these sales help to keep the press going. These funds allow me to work to create meaningful relations within the poetry and book arts communities, where I barter and trade and give away 30 percent of each edition; these exchanges allow me to establish gifting relationships with other presses, poets, and printers, and participate in an exchange of ideas and objects between sympathetic practitioners.
As a poet, I'm used to publishing a book without much remuneration, or with a payment that would be an insult if it actually attempted to reflect the hours of labor that went into writing and thinking about the poems. Of course, I would love to get paid for my creative work in proportion to my labors on it; I would love for our culture to honor and value poetry and artisanal labor, and to pay poets and bookmakers fairly. But ultimately, I'm not writing poems or making chapbooks for a "them" that is indifferent to poetry and the art of the book; I'm writing poems for readers alive to poetry, and I make books to hold the work of poets I love and for readers and lovers of the book. Neither of those is a paying job—I don't know that they ever have been. So the capitalist economy has simply been one of the constraints that I've had to work with in getting Albion Books into the world—much in the way I've had to in regards to getting my poems and books of poems into the world. The odds are totally against poetry and micropresses in terms of time and creative energy spent in proportion to remuneration. And even if I am often overwhelmed and exhausted, that's precisely what makes both unalienated labors—I choose to do them, despite their failure as capitalist endeavors. It's not for nothing that Gillian Welch song—one I love—is pretty melancholy.
PL: I'm really interested in the way you maneuver between situational constraints and your chosen ethical constraints for the press. Sometimes the two are totally aligned—as in the case of the scarcity of funds for poetry and publishing—but sometimes there is a tension between them. For example, you value the limited edition (even to the point of considering the merits of not archiving your books online), but you're starting to increase your edition to meet the interest of the poetry community. And when you began Albion you wanted to upcycle as much material as possible, but you've had to adjust to the limited letterpress resources in Philadelphia and buy paper. I know adaptability is also one of the ideas that grounds your work as a micropress, but you're also a self-proclaimed idealist. Are there any fixed ethical points that you've run up against or can foresee running up against as Albion Books evolves? Have you been able to ferret out the letterpress community in Philadelphia as time has gone on?
BT: All along the press has used scarcity as both muse and constraint, though, as you point out, this scarcity has been both voluntary and involuntary. I began Albion in 2008 with no money, no experience running a micropress, and no real sense of what I ultimately wanted to do. The ethics and aesthetics evolved—and continue to evolve—together, dictated by choice and circumstance. I began with very small print runs because it was difficult to source enough paper to make larger editions and because I wasn't sure I could actually make an edition larger than fifty. In the early days, the press challenged me completely on all fronts: skill, money, time, materials, aesthetics, and labor. To coordinate all the moving parts was overwhelming. Though I'm no longer overwhelmed by logistics, some forms of scarcity have remained constant: the time necessary for artisanal labor, money to fund the press, and cheap suitable materials to upcycle.
It's true that I privilege an adaptable over an inflexible ethics, and in doing so, have had to shift my mission slightly in Philly. But all ethics are contextual, and I don't fetishize them to the point of creating conditions in which it's impossible to make and distribute books. At the same time, I also won't compromise the ecopoethics that inspires me. Because the move cost me crucial sources for free and very cheap book-quality paper, I do have to buy much of my paper stock, but I make sure it's 100% post-consumer recycled. And of course I still upcycle whenever possible—using gifted threads, offcuts I brought with me from San Francisco, etc.—and I use no electricity to run my press, which prints with lead type sourced from old print shops. Some of the changes—such as producing larger print runs—are more a product of circumstances than anything. I realized I had to start buying paper at the same time I realized the Kelsey tabletop I bought doesn't produce fine enough impressions for the smaller, denser text necessary to print broadsides. But since I had to buy cover stock in reams of 250 sheets, instead of finding a way to continue to print broadsides, I decided to increase the edition number when I could manage it.
As far as Philly goes: I've done the best I can do so far. Book culture here seems far more tied to closed institutions like Penn and University of the Arts than it was in the Bay Area, which had a community resource in the Center for the Book, in whose amazing shop I learned to print and bind and where I printed Albion covers and broadsides for series one through three. There are a few community resources for printing here, but none that support letterpress work. For various reasons I wasn't able to explore the city much during my first two years here, so I'm hoping that the next years bring me in closer contact with more book and paper folks in the community. It's not clear to me how that might change the press, but that's the kind change I respect most—a result of context and circumstance. There's more I could imagine doing with Albion than not doing, but out of a combination of choice and necessity I haven't promoted or developed the press according to a capitalist "growth" model. I've done what I could do, and it has subsisted on what's come its way and what I've been able to divert into its coffers—often difficult, but always possible. Sometimes I pay the press a lot of attention, sending out emails, printing covers, and making scores of books, and sometimes I barely have time to sew one chapbook. I like how it waxes and wanes in rhythm with my life in a way a more "growth"-oriented endeavor would not be able to do.
PL: I love imagining you with a hefty sheaf of offcuts under your arm, traveling from San Francisco to Philadelphia. Too good. . . . What about the poetry reading scene in Philadelphia? You've said in other interviews that you find most of the work you publish at readings—you hear the work out loud before you decide to put it on paper. Which reading series draw you in Philadelphia? Which were your go-to series in the Bay Area? And do you still see Bay Area poetics as the press's central node, or is Philadelphia becoming another center of gravity in Albion's poetic dialogue?
BT: I worked so much in the Bay Area that I rarely had time to go to the readings I wanted to go to. In my eleven years there, I also lived all over the Bay—first in East Palo Alto, then in Oakland, and finally in San Francisco—so location and transportation greatly affected what I could get to. And I lived there long enough that series waxed and waned in interesting ways as curators and venues came and went. Over the years, I tended toward Small Press Traffic, Canessa, Books and Bookshelves, plus UC Berkeley, Studio One, Poetry Flash, the Poetry Center, and Moe's when I could get there—but there was also 21 Grand, Pegasus when Clay Banes worked there, and readings first in Elizabeth Robinson's back yard, then in Susanne Dyckman's, and finally in Sharon Osmond's. There are some I wished I'd gotten to more often—like the Condensary, where I read a month or so before I left the Bay—and I'm sure I'm forgetting many others. Philadelphia likewise offers enough readings that I'm not able to get to them all, and like in the Bay, interesting series are organized both by institutions and community members, a key to a healthy poetry community. There's Penn Book Center, Chapter and Verse, Jubilant Thicket, Kelly Writers House, Whenever We Feel Like It, and Temple's Poets and Writer's Series (which I co-curate with Jena Osman). There are also a couple of series I have yet to get to—like Snockey's and Principal Hand—and there have been more informal occasions, such as the lovely salon-style gatherings hosted by Juliette Lee. I feel very lucky to have lived in two cities where poetry thrives.
Interestingly, though I've spoken so much about how the press was born out of a regional poetics, my mission was not necessarily to support or represent that poetics. For lots of reasons, Bay Area poetics has often tended toward insularity—Jack Spicer's attitudes about the local being an extreme example—and from the start I was interested in connecting far-flung poets and communities rather than reifying one regional aesthetic. Very few of the five series I've edited have featured poets from the same communities—for instance, series four published poets from Pittsburgh, the Bay Area, Philadelphia, and Brooklyn. The current series is the first to feature two poets hailing from the same city, and I did it not once but twice. First I published a double chapbook containing work by Juliet Patterson and Rachel Moritz, who hail from the twin cities; then I published separate chapbooks by CAConrad and Frank Sherlock. In that I've now published three Philadelphia poets, it's clear the press is rooting itself in this community. Though my sense is that further series would return to publishing poets from across the country, I'll continue to let my enthusiasm for the work guide me, as well as my desire to support the poetry and poetics of women and queer writers.
PL: I was enamored with the way you connected embodiment, language making, critical reading, typesetting, and communion by way of Olson's "Projective Verse" in your essay-manifesto on the press, Paradise Was Typeset. At one point in the essay, you say that, as you typeset the poem, it "enters [your] body-mind letter by letter, syllable by syllable, builds up word by word as [you] silently repeat each line […]" The few times I've tried typesetting, I had the total converse experience: as I set the lines upside-down in the composing stick, language became undone for me, and that linguistic undoing seemed to throw off my proprioception. Have you ever had that experience? Do you feel the same sense of head-heart-breath-body communion with the poem when you use desktop publishing in layout?
BT: Yes, I remember that weirdly vertiginous feeling I got when I was first learning to typeset—all the alphabet topsy-turvy! I think it's a hard transition to make in the spatial imagination, especially for those of us who spend a lot of time at the keyboard, from which the letters emerge upright, with leading and kerning already in place; it's amazing how we compose largely without being aware that we're also engaged in a form of typesetting, though one in which many choices are already made for us. Once I got used to the composing stick, the orientation of the type, and the need to sort out my spacing ahead of time, typesetting broadsides became this incredibly meditative, fluid act in which the poem seemed to flow through my body-mind, letter by letter, onto its lines. I love how the poem "clicks" into place with a satisfying sound, all the nicks lined up neatly. I don't feel this at all when typesetting others' work in Quark, likely because I'm usually dumping a bunch of text into a file and then sculpting a chapbook out of that—a visual and cerebral process. It's not about placing each letter in relation to its neighbors but measuring and fussing and getting each page and its text block just so.
PL: Do you think it's odd that interviewers have asked you about Albion's "success"? Why do you think "success" is at the forefront of these literary interviewers' minds?
BT: I'm always shocked when anyone thinks Albion is a success—though it strikes me now I should ask interviewers what exactly that word means to them. In terms of capital, it's an obvious flop. Everything else—the chapbooks themselves, the editorial vision, the constraint-based approach to publishing—I have to leave to others to judge, and if those aspects of the press seem successful to them, then I'm really gratified by their judgments. But I think the question of success is always a vexed one for poets, since a poet can be successful in many intangible ways without really being aware of it, without amassing cultural capital and power or without reaping material reward from critical acclaim. The micropress—with its inherently modest scale and its sketchy relation to capital—poses similar problems, and so perhaps folks want a model for what a successful micropress looks like?
When I was a young poet I fell in love with those presses whose chapbooks I found in used bookstores, chapbooks that were well loved—bumped corners, stained covers—before they came to me, but which nonetheless persist as beautiful objects that contain writing that's rocked my world. I've loved many an old Tuumba Press chapbook, especially my copies of Ron Silliman's ABC, Rae Armantrout's The Invention of Hunger, and Alice Notley's Doctor Williams' Heiresses; I've added my own readerly wear and tear to a score of Burning Deck Chapbooks, particularly Barbara Guest's Biography, Forrest Gander's Eggplant and Lotus Root, and Gil Ott's within range; I've had to refrain from tattering four particularly spectacular Spectacular Books, Lyn Hejinian's The Beginner, Rod Smith's The Good House, Juliana Spahr's Spiderwasp, or Literary Criticism, and Martin Corless-Smith's The Garden. A Theophony; I've admired each hand-stitched Leroy chapbook I've found over the years, and return especially to Bhanu Kapil's Autobiography of a Cyborg, Roberto Tejada's Gift & Verdict, Hoa Nguyen's Parrot Drum, and C. S. Giscombe's inland; and I treasure the few achingly beautiful Em Press titles I own, including Kathleen Fraser's Wing and Carol Snow's Bowl. All of these presses are or were run by poets—Lyn Hejinian, Keith and Rosmarie Waldrop, Katy Lederer, Dale Going, and Renne Gladman (whose prose is close enough to poetry for me). Three of them produced letterpress objects (at least for a time), while Spectacular Books used a wide array of printing processes, from the DIY to the elegant, and Leroy Books were laboriously hand stab-stitched in limited editions. I loved each of them as soon as I held their books because the objects embodied a dedication to and love of poetry and poets. That I've carefully packed and carried most of these objects from East Palo Alto to Oakland to San Francisco and on to Philadelphia, and that I've returned to each of these texts for over a decade—that's what I call success.
PL: Thank you so much for talking with me right before having to launch into the school semester. Before introducing your author, would you tell us about the books that are forthcoming from Albion and describe how their designs respond to the authors' wishes, the books' content, and material constraints?
BT: There are two more chapbooks in series five. The first is by Frank Sherlock, the featured author I'd like to introduce to you. His Neighbor Ballads, whose covers I just finished letterpressing a couple of days ago, is out just now. Here's how Frank describes NB in his foreword to the work:
It was commissioned by the Mural Arts Program of Philadelphia as part of Journeys South, which included interactive public art installations engaging the living history of the city's most ethnically diverse neighborhood. More than a year of archival research and oral history interviews informed this series of poems that celebrate immigrant narratives of seven South Philadelphians. Their stories were shared through poetry and portraiture in newspaper format, paying homage to the impact each figure has made on the character of their neighborhood. The broadsides were distributed for free via complimentary news dispensers. Each "honor box" featured Erik's portrait work expressing a bit of each person's story.
I encountered this project in its original incarnation when I came to Philly to look for an apartment. My colleague Jena Osman took me on a walk from Center City to South Philly, and on our way we ran into Frank, who told us about the broadsides. We followed the route and picked up all the broadsides, which I loved: Frank's poems and Erik's woodcuts married oral history and traditional craftsmanship with innovative techniques and a presentation accessible to the public and highly portable. And yet the poems "vanished" once the project was over. I was curious whether they might come alive in another context.
Frank and I met to talk about this, and he was excited about it. He was the kind of author who was totally open to whatever form the chapbook took, though he had some initial ideas about color, which we wandered away from and came back to. And though at first we thought we might include the original artwork, later I found a print by a local artist—Jenn Pascoe—that resonated beautifully with the spirit of Frank's work. Frank agreed when I showed it to him. I lifted a detail from the print in order to make a linocut, which is the central image on both covers—and Jenn's print is on both the half-title and title pages. The covers are gray (and 100% post-consumer recycled paper), which was Frank's choice, and the inks an interplay between black and silver. Both the thread to bind the covers and the interior papers are left-overs from another project.
The final Albion title of series five will be Friend, by Jean Valentine. It's a serial poem—an extended elegy for a friend. It is as beautiful and tender and strange and powerful as any of her work. And I'll be happy to begin working on it soon.
BT (to Frank Sherlock): One reason I love your work is how gracefully it marries voice to page without losing either the funkiness of street speech or the aesthetic pleasures of prosody. You've created a really accessible aesthetic that's also a postmodern aesthetic of fragmentation and projective verse. Given how often you work collaboratively and on public commissions, I wonder if you could first talk about writing poems for public projects: what kinds of aesthetic challenges, if any, have such projects posed? Relatedly, I'm wondering if you value such projects over more "literary" contexts? Or if you simply see them as having different virtues? What's important to you when choosing in what contexts your work reaches readers?
FS: I imagine all of my work these days as a public project, in the sense that there's a hope for the work to keep finding alternate forms and/or new manifestations beyond the cloisters—or at least beyond the same cloisters. I used to think that the written word (or text) was my first true poetry love. But in terms of what turned me on first, there it was—speech. The only thing that changed is my conception of what a poem could be. I will always have passionate book crushes, I'm afraid. They're just going to have to be okay with an open relationship. I'm interested in letting the work find its forms and contextualizing its method of exchange.


---
Click here to listen to Frank Sherlock reading "Ballad of Joe Tayoun"
Ballad of Joe Tayoun
Welcome to the parish of a hermit saint
Welcome in This is a time to move together
I want to You want to
Ahlan Ahlan
rise &
to the fall
of first
gasps & last
breaths

Timbre of the movement
of blood
of movement
A little boy
studies the hands of elders
schooled on the steps
of
the
Middle East

He is handed a tambourine
& tradition begins again

I want to love You want to love

tabla derebeki darbuka doumbek

There is a busboy &
a boy who plays a drum

The song begins
at 10th & Ellsworth & goes
around
the world

It plays for Morocco for a Danish queen
for kids in middle school

A little boy
grows into a teacher that never
stops being a student
He studies the hands of masters
when he listens still as cedars studies
the hands of masters whenever he sits in
Ahlan

Welcome to the first & last rhythm lesson

learned from his father that continues to fill the rooms

I want to love you You want to love me too

Let's not say it's entertainment Let's say it's everything