Selected by Srikanth Reddy as a finalist for the 2018 Omnidawn First / Second Book Prize
---
Binge Watch
Caught the season (Hail) finale
of So you think (Hail) Ninja Idol
the Housewives of (Hail) Abbey
A young soldier was (the distracted)
baking when (the over) a spurned
lover informed him of his mother's
cancer Then a shot clock buzzed
(stimulated) The ball hovered
desperately like a caped (the cross)
wizard at zero hour (the under)
Soon a school hallway (nourished)
broke into song and (their allergy)
venomous creatures (to action)
ascended from sewers rivers
(has calmed) while coworkers
cast aside etiquette to kiss
(the avalanche) Ten doors over
(Somatic) teen mothers are
castigated Emergency surgery
(Amused) is performed without
anesthesia The (the front) crew
(gate) hunts for the world's
weirdest sandwich A neighbor
(was left open) cracks wise A drug
deal (for us) goes awry Widows
bicker at the dead (to walk in)
gladiators bob (and rob) in spandex
across synthetic foam battlefields
News lands with (the starstruck)
a joke A bomb is defused mere
seconds before it was rigged to
detonate Wax sealant is sold
to the (the desolate)
the nonplussed
---
Memexodus
You and I are walking around with outdated software running in our bodies…
–Ray Kurzweil
The past is a culture's brand of cellulite, a tract of unwanted
blemishes, unredeemable lesions that cannot be cloaked by blush
and mascara. What the hive has taught me is that history,

like the body, is an anchor that eventually drags the ship
to the bottom of an ever deepening ocean. The marketplace
offers me the choice to live beyond elements. As an avatar

I can collage the self, plucking from the detritus of epochs
the prime cuts, mixing the residue into a radiant glue. Why
be bound in the imperfect tomb of the torso? Why settle

for the anonymity of liver spots when I can levitate in the zero
gravity of coolhunting. If we're all born to be an obituary
then let me live as a hyperlink, a trending meme traversing

the chatter of continents. I have access to a colossal hard
drive from which I will build another self; the self itself
already an other, the other merely a self subsumed by selfies

and photobombs clustered in servers. You are what you upload,
so let my mac make me seraphic, an incorruptible file, a portable
multitude. Circumvent the footsteps of elders. The linear path

is obsolete. The skull is a dungeon. I would rather be absolute
data, a vacuum decked in cashmere that never loosens at the hem.
The future is my only present. Now is merely rotting compost

pleading to be updated. There will be no bane or burden, ache
or sore cartilage. Legacy has shriveled me, but soon I'll be a sylph
streaming on broadband, a pyramid free from erosion. Inutile,

extinction will become passé.
---
Vincent Toro reading: Binge Watch
Vincent Toro reading: Memexodus
---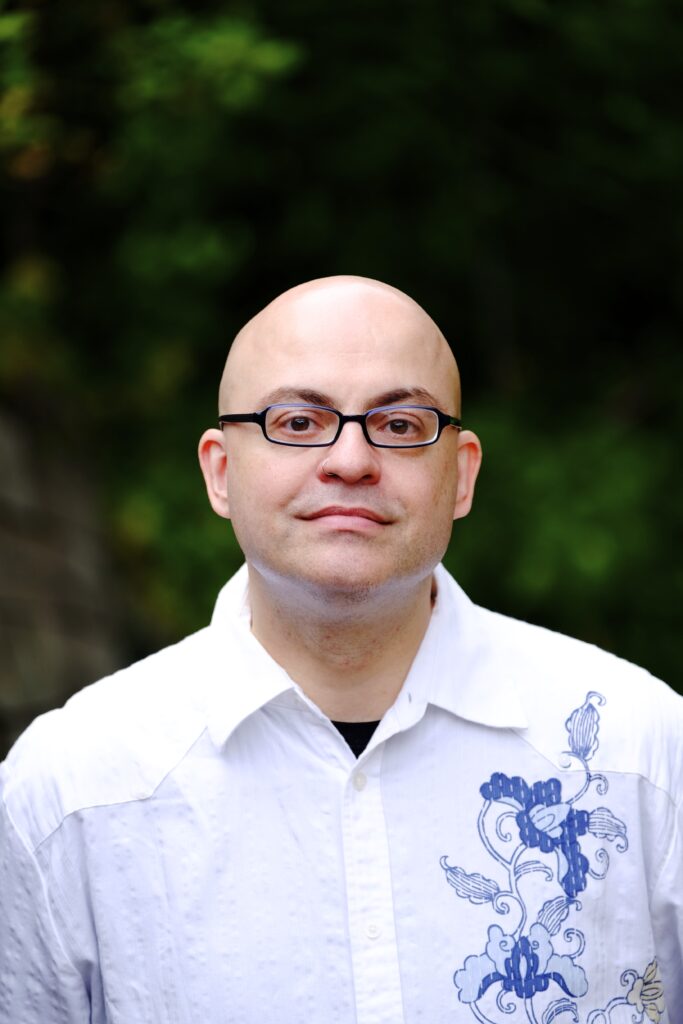 Vincent Toro is a Puerto Rican poet, playwright, director, and educator. He is the author of STEREO.ISLAND.MOSAIC., which was awarded the Poetry Society of America's Norma Farber First Book Award and the Sawtooth Poetry Prize. He is also winner of the Spanish Repertory Theater's Nuestras Voces Playwriting Award, and is a former Poet's House Emerging Poets Fellow and a New York Foundation for the Arts Poetry Fellow. Vincent's work has been published in dozens of magazines and journals, including Washington Square, BOAAT, Rattle, Vinyl, The Acentos Review, Glass Poetry, The Buenos Aires Review, Chiricu Journal of Latino/a Literatures, and Best American Experimental Writing 2015. He is director of the Cooper Union for the Advancement of Science and Art's Saturday Program and is a professor of English at Bronx Community College.