from Tahiti Series, 1988
---
Nowhere Power

Looks along the edge
of the sun
a signature of clouds
driftwood
to convey directly
through those texts
"I see an angel
standing in the sun."




…
"Nowhere do artists and writers have power, but nowhere in the world do they have less power than in the United States."
Raúl Zurita
(email correspondence, May 8, 2007, from Santiago, Chile to Valerie Mejer. In "Zurita and Cormac: The Story of Our American Sentimental Education." At Harriet: a poetry blog)






---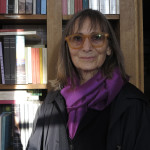 Norma Cole's most recent book of poetry is W
in These Posters and Other Unrelated Prizes Inside
.
TO BE AT MUSIC: Essays & Talks
made its appearance in 2010 from Omnidawn Press. Her translations from the French include
Crosscut Universe: Writing on Writing from France
, and Jean Daive's
A Woman with Several Lives
.
Actualities
, Cole's collaboration with painter Marina Adams, is forthcoming from Litmus Press. Her paintings & drawings were shown at the 2nd Floor Projects in Fall 2014.