Guns of the Trees


A set of notes detailing the caves of an impeccable gentleman, a minotaur poet. The most devastating silence of the first ten books. A fantasy of Philip Lamantia as an action figure stripped naked with special audible scream switch buttons. Re-imagining Grace Cathedral as the great symphonic hall of coconuts, Oh the book is resting complete in a chinatown basement.
A poem I puked drying out at a hot springs in love winding through the dry hills of neem leaves, an exaggeration of music I thought younger poets admired. The trimmings I knew I could press new meaning in between. I was endlessly in the mood and working this lace front, that words as force walk the earth. I tried to show a sailor bounding through his life in silhouette.
I'd rather live on my own with my magic lantern. I'm sick of public schools that reek of church. Drink. Fuck. Breed. Light the top shelf. Pressed green woods with light standing even straighter. He is standing on my eyelids and his hair is crossed with mine. Giving flat girders to the dream poem. Its all about the filthy paint of a room that empties out at night. Scotch tape wrapped words
guarding fissures of light. Brakhage and Bob Dylan jokes I wrote exclusively for money for The Recluse. Fished out from the threshing odds and ends. A song I thought was lost, the lines were nothing on there own. A diorama whose language goes ahead to shatter the glass. Billion dollar kick flips in your honor. A poem named for a race horse named for weed.
A perfect approximation of the opening smile. His poetry would make great bronzed inuit blues. My feast was in the easy blood that flowed. A dark skittering travelogue I almost didn't type up, the most break up like drivel. Number thirty five with lines from two sonnet cycles. Translations via Telephone, such civil war is in my love and hate. Lines in which I know the way
the music lays. I back away from the wall. I wanted the deepest impression, a line torn from its plush root. Occupy damaged or inspired, they are reverse black nazis in unfunded wheelchairs. I can't keep up. Wiping black snot onto white sleeves. Another last ditch genius fuck. The morning after a long night hot in Fort Green. Back on the west coast writing it. Desk faces wall. A chinese distillation to
illustrate the offing, panels for the walls of heaven really concealing its canals, haranguing the provencal into a blues again. It closes too tightly. Trample it down to its esteemed place in language arts. In homage to his wealth, and willingness to go down on his masters. A matter of course under Bismark bridges. Its more a leaving off of the grime sometimes, entered cities of boiling red dust.






---
Guns of the Trees was written by moving backwards through the table of contents of my most recent book and recording what I could remember about the composition of each of the poems.
---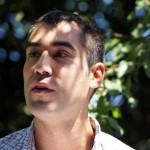 Cedar Sigo's books include
Selected Writings
(UDP),
Stranger In Town
(City Lights) and most recently
Language Arts
from Wave Books. He has blogged for SFMOMA, The Poetry Foundation and City Lights Books. He has lived in San Francisco since 1999.