metaphysical interior with furniture of time
picture here / lightbulb trees in full bloom / magnetic resonance returns / a factory floor rolls out dogs made of clock parts / this room / the cavern of a cello strung with gut / carved out lengthwise by staccato hibernation / engraved in stained glass sheets
I seldom use the same word as a scalpel more than once / I like the limitation / shadows cast by well-placed garbage / make a man a mural / cartographed in staples / apples rendered facial sounded out to crack the symmetry / the whole idea of mammaries as taxonomic principle / invincible we rise / in boredom we herd
because of tea & porcelain / the ruins iridescent steel horizon / lips the sunset pools of mitochondria / this love song / is a bust / a rubber glove / a jade sphere multiplying arcs from white to red / desert tower satin tuning fork / asleep all spring & hung
from wooden beam / which window seat to shoot through / on the cusp of prising out / an egg from gilded cage / the portraits never say / go limp suspension bridge / the tunnels fill / wet houses burn / & we can't define what was
---
this poem is from a loose "series" I worked on after seeing a bunch of paintings from Lloyd Martin'sStrata series at a gallery last year. this one is more overtly ekphrastic than some of the others and owes a large debt to Georgio De Chirico and Yves Tanguy, thinking about what it'd be like if their worlds fused. the visual layout comes from Martin, though, and the general idea of canvases in a gallery.
---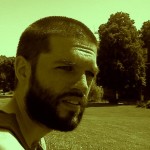 Alex Crowley is the poetry reviews editor at
Publishers Weekly
and a co-curator of Brooklyn's MENTAL MARGINALIA Reading Series. He received the first annual Paul Violi Poetry Prize from The New School and his work has recently appeared in
DIAGRAM, Handsome, SHAMPOO
, and
Entasis
.