This month we feature new work from the five finalists from Omnidawn's 2015 Poetry Chapbook contest:
Adam Atkinson – Jacket Copies
Matthew Cooperman – A Little History of the Panorama
Sam Corfman – An Opaque Flower Digging
Madison Davis – Carrion
Jenny Drai – Tail



Notes on Alfred Leslie's "The Accident"
Adam Atkinson


1—First see the beautiful sky—
2—Terrific landscape—
3—car lights—
4—Frank being run down—
5—other car—
6—First see the naked women—
7—Sinewy limbs—
8—moonlight—
9—Frank being run down—
10—other moons—
11—First see the loose shoe—
12—Hovering mist—
13—car lights—
14—Frank being run down—
15—three bright moons—
16—First see the lapping tide—
17—Galloping feet—
18—dark windshield—
19—Frank being run down—
20—other car—
21—First see Frank being run down—
22—Terrific head wound—
23—dark moon—
24—Frank being run down—
25—three shades of dark—
26—First see the dark windshield—
27—Faintest steering wheel—
28—wide eyes—
29—Frank being run down—
30—other eyes—
31—First see the beautiful driver—
32—Coded license plate—
33—dark car—
34—Frank being run down—
35—three I's—
36—First see Frank being run down—
37—Terrific limbs—
38—lights out—
39—Frank being run down—
40—other Franks—






*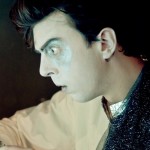 Adam Atkinson is an Instructor of Creative Writing at Interlochen Arts Academy in Michigan, as well as a doctoral student in fag poetics at the University of Utah. He is one-sixth of the poetry collective Line Assembly, and his poems have appeared recently in Dreginald, Makeout Creek, and Twelfth House.






---
Election
Matthew Cooperman


history goes right up to yesterday
an oak leaf about to fall
periods of heavy traffic abating
a low pressure zone in the sinus cavity
lifting these sparrows or eyes
the vertical run of the skyscraper
cutting the blue an action
right up to yesterday a man's hand
writing changing over time
periods of heavy lifting ongoing
the ox in the man pointing down
shoulder pain in the crotch of the oak
a nation about to fall a man
at a podium beginning to raise his fist
a gathering nest for a séance of vipers
the History Channel remembering
the houses easily built on sand
forget our pasts in favor of our futures
a low pressure zone in the districts
judicial culture a case in point
gender at the podium waving her arms
grassroots strength pride in occupation
prehistory of the end the beginning
of an action traffic in bitcoin
thirst in repeating guns as personal weapons
forget our past goes right up to yesterday
think what writing changes the sparrows
noticed gradually abating
a séance of drones to coin a future





*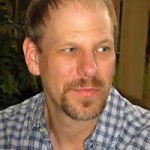 Matthew Cooperman is the author of, most recently, Spool, winner of the New Measure Prize (Free Verse Editions/Parlor Press, 2016), as well as the text + image collaboration Imago for the Fallen World, w/Marius Lehene (Jaded Ibis Press, 2013), Still: of the Earth as the Ark which Does Not Move (Counterpath Press, 2011), DaZE (Salt Publishing Ltd, 2006) and A Sacrificial Zinc (Pleiades/LSU, 2001), winner of the Lena-Miles Wever Todd Prize. A founding editor of Quarter After Eight, and co-poetry editor of Colorado Review, Cooperman teaches at Colorado State University. He lives in Fort Collins with his wife, the poet Aby Kaupang, and their two children.


---
After Years
Sam Corfman


In the intervening, in the time splitting as pillars,
the cliffs as diffuse as the formerly fading letters.
Now acquired of a red precision.
Left from the excised ensemble: a division
of four in half, or a negative addition to three,
although this wood has a designer. What a photograph,
an injury covered up, on the back, now attributable.
She says but she does not exit, a stone. What broke

these as regular marks repeating.
This gauze was so much smearing. Well it was.
The last word is wisdom, as in celerity, as in don't.
When I measure you you won't stay the same.
At the end of a measure, inaccurate, again.





*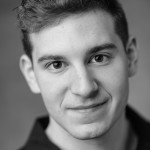 Sam Corfman counts Chicago, Pomona College, the University of Pittsburgh, and Antigonick among his poetry teachers. Other poems from An Opaque Flower Digging (will) appear in Prelude, 1913: a journal of forms, and Deluge.






---
cast into the dark. cast the dark
Madison Davis


the places of midnight up against the vacuum.
in the tunnels, there is nothing like what we look for.
a body in mourning, meaning: the air is heavy
around a hazy center but you cannot see me
through all this salt water anyway. have patience with me,
begins the prophecy in the evening, there is nowhere left
whole for you. i avoid giving my mother books
that mention drowning, especially that include
the worst way to die. i consider tearing out the page
in a particularly good book but decide
she would be suspicious and telling her
that i have avoided it on her behalf
is worse than her reading it alone.
cast into the dark. cast about in the darkness
for the texture. it is predicted to be a cold winter.
the kind that makes us feel our lack of present,
and makes you feel closer to me. because you seep in
through the floorboards given the cracks,
and because we overlapped so many winters.
dear brother, was it the worst way to die?
i can only feel the texture of the dark
without even the comfort of a tunnel,
nor the crimson outline of straight ahead.
the worst kind of dark.
we are as close as we can be. meaning exact.
meaning of the same material. come inside and wait
out the cold. wait out the dark. i wake up with it fit
inside my ribcage, held together in the lavender dark
with all the bricks and herbs i can find.






*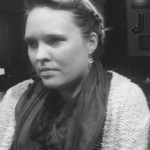 Madison Davis writes about family, water, mourning and disaster. Her recent work can be found in Elderly, Hold: A Journal, The Portable Boog Reader, It's Night in San Francisco but It's Sunny in Oakland and Open House. She has been a finalist for the LesFigues NOS Book Contest and her first book, Disaster, is forthcoming from Timeless, Infinite Light in 2016. She lives and works retail in Oakland.




---
the new icon :
Jenny Drai


Were said to lure.
Were told luring was sinful.
Were caught on the lure of an otherwise
decent fisherman.
Were paid attention for luring.
Were disrespected for doing it / the prerequisite
double standards of our day.
Were dismissed for deciding not to.
Misunderstood for recalcitrant. Misremembered
as oppositional.
Chided for offering rebuttal.
Based on older manuscripts & traditions.
Not only endured but discovered.
Liban / daughter of Eochaidh / son of Muireadh.
Like an echo of light. Or like
Melusine
in her tub. Pitching forwards. Vanishing
upon the upheaval
of discovery.
Or taken up in a net & paid the mercy of baptism.
Or handling it in some other way.
Definitely handling it.






*


Jenny Drai is the author of Letters to Quince (winner of the Deerbird Novella Prize from Artistically Declined Press), [ the door ] (poetry, Trembling Pillow Press), Wine Dark (Black Lawrence Press), and two poetry chapbooks, The New Sorrow Is Less Than the Old Sorrow (Black Lawrence Press) and :Body Wolf: (Horse Less Press).