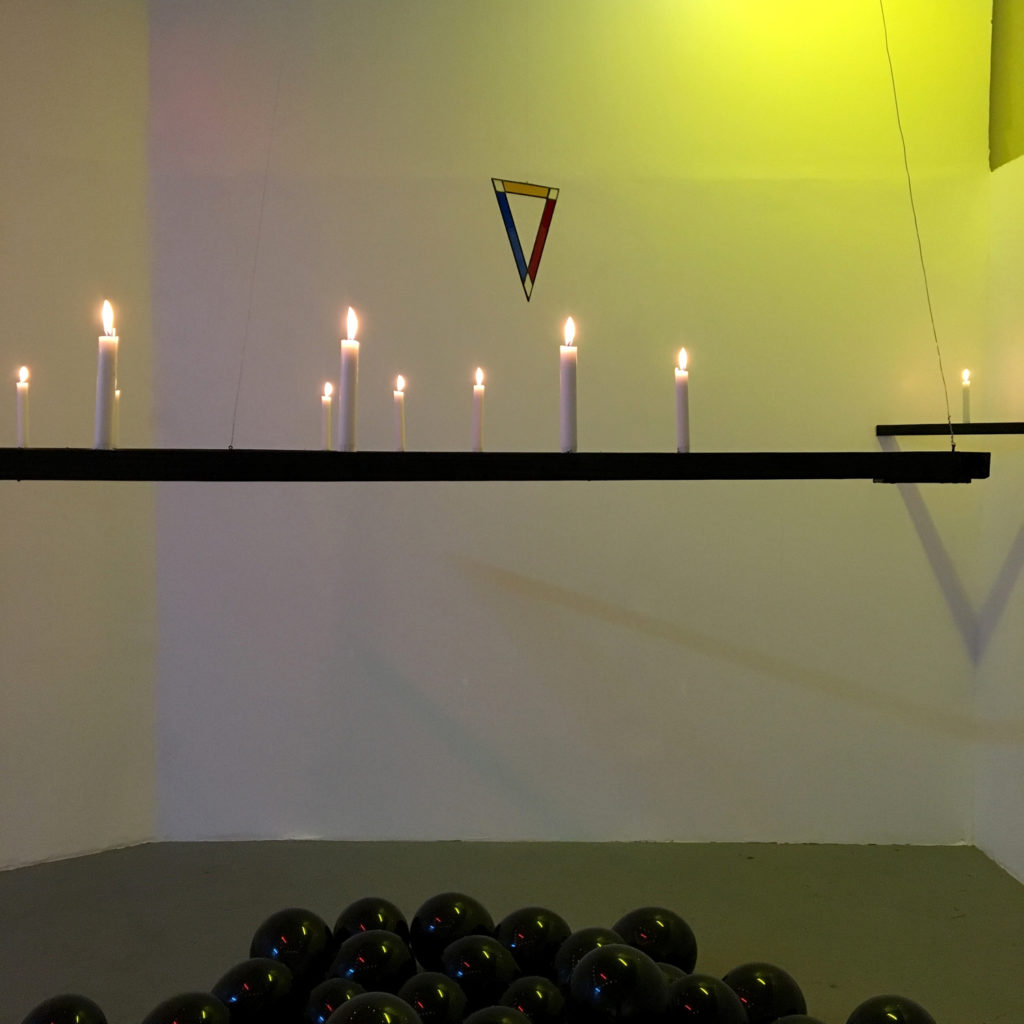 As Cedar Sigo stepped up to the microphone, surrounded by a black, suspended triangle, hovering around his waist with electric candles attached to it; a black balloon burst beneath his foot, followed by someone in the audience accidentally shattering a glass bottle on the concrete floor. Thus, began an unusual reading/book release party/exhibit of a new collaborative project/ominous noir séance circus (that last part doesn't make sense, but they're the first words that popped into my head during the event and associative naming seemed appropriate considering the event), performed by poet Cedar Sigo and visual artist Frank Haines. Held at the Land & Sea Gallery in Oakland, and advertised as a "darkened installation of continually descending tones," the evening was a mix of Haines' cryptic art pieces and decoration and Cedar's very personal, enigmatic poems.
Haines had the room decorated with a variety of artistic projects. From paintings to sculptures, all bathed in different types of lighting for the purposes of creating glares and casting shadows; to the aforementioned candelabra and black floor balloons that were the centerpieces of the room. Also, before the reading started, Haines played loud, foreboding music that would have felt right at home in a David Lynch film.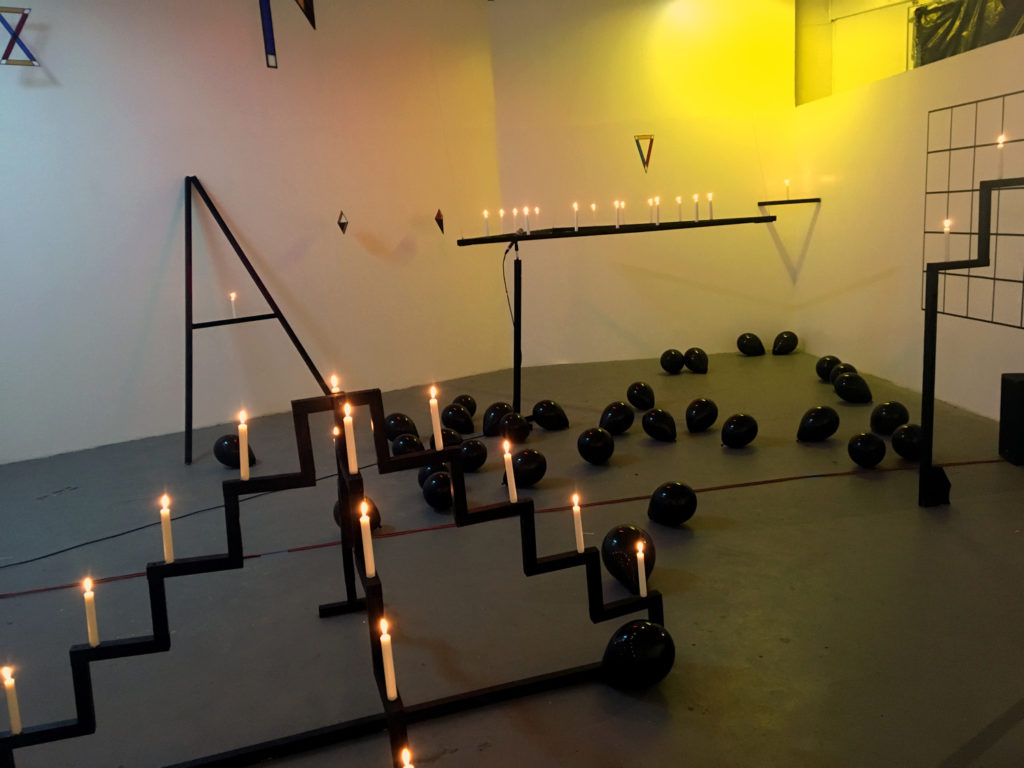 The reading portion of the evening was rich with Cedar's love and sense of heritage to his poetic influences, with strong connections, both stylistic and referentially to Dadaism/Surrealism and the poetic traditions of San Francisco. Fitting that the book Haines and Cedar released is reminiscent of past artist and poet collaborations such as Aimé Césaire and Picasso or Joe Brainerd, Ron Padgett, and Ted Berrigan.
While the black triangle candelabra swayed around him, Cedar read his dreamlike, imaginative poems in his soft, introspective style. When listening to Cedar, your mind feels like it's in a hyperbaric chamber. Even the concrete images become amorphous and fluid; their solidity and tension become relaxed. People and style became the sources for orientation. His reverence and cherishment of individuals was the focal point of many of the pieces. From a self-described loose translation of a Mallarme poem, to mimicry of Alfred Starr Hamilton's style as tribute, to a few Philip Lamantia inspired poems that listed gifts to poets and friends whom he has a fondness for. His work was lush and beautiful, contrasting well with Haines' varietal constellation of visual effects.
---
Paris
Cedar Sigo


I can disappear before your eyes killing you
I slay you with my eyes you disappear
That's how I would remember that line and How To Write
Actually, certainly, stupidly, only the ladies strumming language
They are not women, they are nights
Wrestling these lines off the back of a knife
They have a second life spent in stone and so attended
Bomb the bridge to heat my hands
Work their handlers in order
Go to the movies all day, only to collapse and focus
To finally hand off my faded flower
Caring and pointed she brought me up and loosened my mind
Toward the checks and imbalances
And cameos in lucifer's grotto
I remember a full-on scottish plaid suit
The Gravitron, SEXODROME growing out of Apollinaire's grave
Empty balcony seats, operatic little fills
The poems of a multibillionaire, a vow of silence
Fine and Mellow, all the things you are
The last six lines were born of an assignment that was hanging over my head at the time. The artist Frank Haines had asked me to write "An Inventory of Lucifer's Grotto." The possibilities of the assignment felt so lush that I assumed he wanted it written in prose, and I froze under the weight of its drama. It almost seemed the concept would be best served if it was realized as an installation in a gallery or as a short animated film. I suddenly remembered Frank's request as I was nearing the end of "Paris," so I just began to list a set of creepy emblematic objects without any worry of providing context. The trick was imagining each of the objects trapped under glass as in a museum. I was surprised that this abbreviated, clipped measure seemed to serve the material best. In the end it took several months and two weeks in Europe to access the material and to include it as the last phase of a sonnet.

More photos from the installation can be found here.