IN REMEMBRANCE OF THEIR LABORS

What is the nature of the artist of color's desire for disruption? Legacy. I am of a long lineage of fuck-up hustlers, mostly on my father's side. On my mother's side: civil servants: three generations of mayors, accountants for the state, aids to senators. On my father's side: scamps, scam artists, pimps: perfect models of destabilization.
From all sides: studious and intense labor, relentless work, an interest in systems of exchange.
I'm a node of various dark and light powers, first generation emitting energy from the first world. In remembrance of their labors, honest and corrupt, I infiltrate the creative class by racializing its hegemonically subversive cultural tradition. Because it is hard and because it is like a mountain to conquer, but who has time for mountains while on the clock?
This in remembrance of my impetuous mother and father's jet plane ride into the maelstrom of the 60s, and bussing tables and a tiny apartment in the Bronx and not learning English except for the words of labor. I serve thee for thine labor is my staircase.
Could have been lawyer or kindergarten teacher, roads leading to retirement packages and home ownership (20% down, variable interest rate). The frivolity of poetry is the biggest risk of all, layers of frivolity disguised as labor or vice-versa. Poetry is useless until we rot from inside when we don't have words.
Emancipatory lyric poetry. Deregultated lyric poetry. Lyric poetry with workboots. The lyric poetry of garbage, of kitsch, of Marianism, of cockroach and placenta and dirty fingernails.
In remembrance of their very deep-kneed and hand-gnarling labors, I work through the pelting of disregard. In remembrance I declare the ocean Latinx, its blue surface the tongue of our abuelas forming the rough syllables of our Americanized ideals.
In remembrance of the story that recurs: My parents started night school, then dropped out because we can't all be lawyers and accountants, not with tables that need waiting on.
In remembrance of my father's belief in text, the house filled with books of striving. I read those books, the argot of the oppressor and America opened for me in How To Win Friends and Influence People. My favorite story was about the boy who befriended a czar who then married the boy's mother. True story: my father was always almost landed, which left a pit of hope in us I can't quite bury.
This is in remembrance of my mother whose hands were calloused against heat, biceps from hauling vacuum cleaners and trays of grand slams. My own arms fat with comfort.
In remembrance of my sister Yvonne who exemplified the sadness of her class, the one from which I was lifted through my mother's labors and fantasy life.
Yvonne was a marginalized artist outside of or without access to any iteration of capitalist supremacy and I'll blame that for her death as the cause is as good as any. AKA she died from being poor and ill and addicted and untended, there but for the glory of the machine go I.
Mercy to my failures and the legacy of failures beneath the surface of the heroic immigrant story I wish I was telling.
Ann Townsend: the American sublime is a public display of spectacle. Me: the public spectacle is cracking up and forth through the cracks we've made over the years: an ooze of new self.
In homage to different modes of feminist poetic discourse, particularly the work of my pantheon: Gloria Anzaldua, Cherríe Moraga, bell hooks, Audre Lorde, June Jordan, Lucille Clifton, Jessica Hagedorn, and Ana Mendieta.
Jose Esteban Munoz: Whiteness claims affective normativity and neutrality, but for that fantasy to remain in place one must only view it from the vantage point of US cultural and political hegemony… This game is rigged insofar as it is meant to block access to freedom to those who cannot inhabit or at least mimic certain affective rhythms that have been preordained as acceptable. From the vantage point of this national affect code, Latina/o affect appears over the top and excessive.
I write in remembrance of all the nosotros muffled by the clang of dishes and jokes about Latinos. Why do Hispanics have small steering wheels? So they can drive with handcuffs on. What is the difference between a Mexican and an elevator? One can raise a child. The connections of how certain formalisms erase so-called selves. The truth is that these so-called subjectivities are already translucent.
The context for the 21st century Latina lyric I is an overfull rocket, a plate of entrails on my head. It is that I will stomp and duende, that I wear stiletto-knife chanclas. My peerless bosom is made of parrot feathers. This I is the guns and gang tattoos museum for the visitors at the zoo.
If taken in parts, our deficiencies are attributable, forgivable if taken in parts. As a whole, I am in conclusion, a fracaso, a wreck of great consequence, and this will be like my prison tattoo. La Wrecking Crew. The resistance in this expression is therefore disruptive or pathetic intentionally or unintentionally.
To the future flor de cancion, innovator and disturber of the story I say, coalesce and rise. Destroy. In remembrance: kick and scream till it falls.






---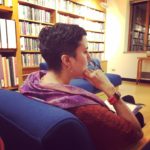 Carmen Giménez Smith is the author of a memoir and four poetry collections—including
Milk and Filth
, finalist for the 2013 NBCC award in poetry. She co-dited
Angels of the Americlypse: New Latin@ Writing
published by Counterpath Press. A CantoMundo Fellow, she teaches in the creative writing programs at New Mexico State University, while serving as the publisher of Noemi Press.