---
name after name before ours
The local ladies of the old Lexington Club,
El Rio, Jolene's, of Uhaul, of tonight,
purity in their spike hair and quaff combovers,
knuckle-knocked, eagerly wait outside,
a limb outstretched from mundane normality.
Crutch-filled joints rolled in stooped fingertips,
acclaiming a sense of prowler, accessorizing
tarnish—badged on so much chest fat
necks begumed with bruises somewhat spiteful
making all the squeamish, gainful girls
at the bar turn their eyes away from the
complexitude of our waddles.
Sidling up slowly towards the door, the girls
look like so much served spit on a platter,
herein they will cuddle near the door,
make-out, aggressive pulling of lobes and heels,
take off shoes in favor of movement,
pave the streets anew with their bride-like feet,
all creased and tender, meats hanging over the sidewalk.
To be a windowshopper tonight, for those wealthy poor
milk-based diet vamps perched outside the bar.
To be a wound on their furry canvas, shifting,
briny, beneath the glowing neon light shining
through the blacked-out windows.
Getting old, causing a scene, and we look
so sissy-laden in our yowling at each other.
---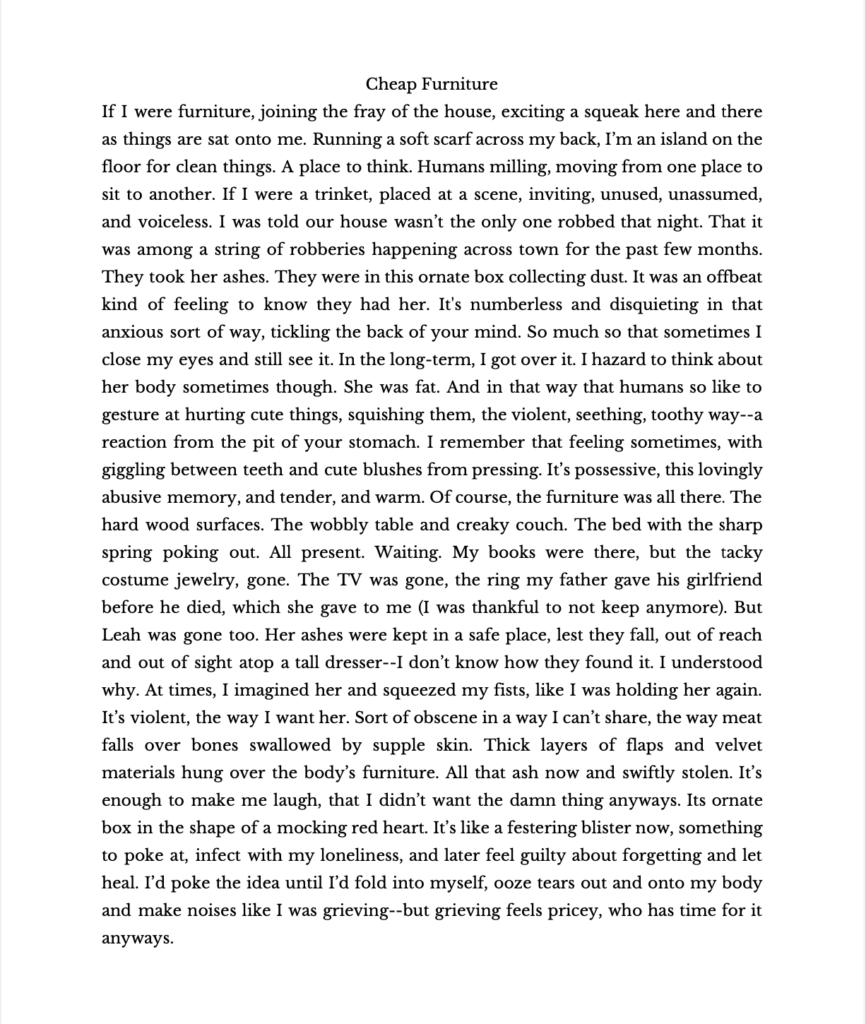 ---
OUR DEAR GRIL
"said they raised more than $100 at the event to go toward final arrangements . . . thanked
community members for their support for the girls, who were orphaned several years ago" -Lake Co. News
My sorrow just started in this kitchenette.
They're watching as I grip the wet countertop,
shocked as I, between sobs discover this entire
emotion named after you. Leah–and I'm weary,
looking up later that Leah means cow in some
semitic language; remembering summer
in a flashing yellow bikini top underneath a
wife-beater in your cleavage and how your
fat hung over too-tight basketball shorts
that cinched just at the visible top of the line
between your buttcheeks. Leah, who in the book
gave her sister Rachel, meaning ewe or sheep,
to Jacob.
"Leah was smart, had a beautiful smile and liked to joke around with staff."
-Children's Services
You knew and yet did not know. Leah, your
sisters called you baby. Treated you like a sister,
I'm sorry. I hid things from you, and our families.
Leah, she told me. Leah, I know now. Leah,
meaning grieved. The smell wet cloth has
when gathered and left out in a plastic bag
after swimming. Leah, meaning light of the sun.
Remembering times you sat on my lap
after swimming, wet and you laughed and
sometimes looked at me. When you did.
Leah, meaning tired or weary. Cautioning a hope.
And the room, my family and all, shifts like a
gravitron where we held hands, bodies pinned
to the padded walls. And Leah, meaning glad tidings,
I have been told by your sisters that you felt a way.
"The young people, in their grieving, want to do something".
-Thompson
Leah, meaning also mistress, should I apologize, Leah, and ruler.
Forgive me and I grieve for you. Leah, I grieve yet still.–
---
Vanessa Marie Hamill reading: name after name before ours
Vanessa Marie Hamill reading: Cheap Furniture
Vanessa Marie Hamill reading: OUR DEAR GIRL
---
Vanessa Marie Hamill-Meeriyakerd is a recently married MFA graduate of SF State University. She loves being involved with the queer community, particularly nonprofits throughout the Bay. She is the recipient of the Piri Thomas Poetry Prize, as well as the William Dickey Fellowship in Poetry. Her works of poetry and art can be seen in local journals such as Foglifter, Cipactli, Transfer Magazine, and now Omniverse!