These poems will appear in Shane Book's new collection, Congotronic, forthcoming in the United States from the University of Iowa Press and in Canada from House of Anansi Press in September 2014.


The Collected Novellas Of Gilbert Ryle


They Have A Private Career


His boots were broken. When he walked
they said, "Cold only rawed ideas."
He had been at the Colony for many years.
He had been busy culling spores
from the frothy air as the para-mechanical
cloud test come in low over the valley.
Into the late air as into a darkened,
humid dirt basement, he yelled
"Where Tos?" and, "You OKs?"
until the distance became unbearable.
Flagelliform # 39

AND THE NAME OF THAT SPEAR WAS, ONE PLACE WHERE IT ENTERS, NINE PLACES WHERE THE BLOOD COMES OUT


I see him. I have him.
He sits on his black-coated horse.
Towards leaches,
swamp fingers dank
in ragged beef smells.
In spike-horned hat. Natural, open.
The very war fin suit cage.
Uber welded.
We are a rigid door thin space apart.
Close enough to smell his blue saddle vapor
his musick
flame-quick reappearing him
on a far away
red ridge
a go-word burned into us.
---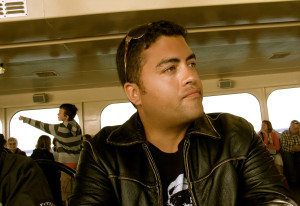 Shane Book's debut collection,
Ceiling of Sticks
(University of Nebraska Press), won the Prairie Schooner Book Prize and the Great Lakes Colleges Association New Writers Award, and was a Poetry Society of America "New American Poet" Selection. His chapbook,
Flagelliforms
, was recently published by Oakland-based speCt! books. He is a graduate of New York University and the Iowa Writers' Workshop and was a Wallace Stegner Fellow at Stanford University. His honors include a
New York Times
Fellowship in Poetry, Fellowships to the Flaherty Film Seminar and the Telluride Film Festival, Best Short Screenplay at the Diamond Screen Film Festival, and an Academy of American Poets Prize. Adapted from his National Magazine Award-winning poem, his first short film,
Dust
, is screening in festivals worldwide.