This month we feature new work from the five finalists for the 2013 Omnidawn 1st/2nd Book Contest:
Julia Drescher — Plural Bell
Daniel Poppick — The Police
Margaret Ross — A Day in Space and Another Day
Steven Toussaint — The Bellfounder
Caroline Young — catastrophiliac





from V | HARD ISLAND (#8)
Julia Drescher


to stand in island
thrashing the blameless grass
crowding out-text, fits,
its margins w/ mourning,
brother to jackals sound
in the vein of her mouth,
heretic, a broke down mound
all salt, all ill and
opened by what fills it




*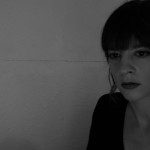 Julia Drescher lives in Colorado Springs where she co-edits Further Other Book Works with C.J. Martin. Her poems have most recently appeared in Dusie, Aufgabe, Likestarlings (with Michelle Detorie) & in the *belladonna chaplets series. An essay on Jack Spicer was published as a chapbook with New Lights Press. Other essays may be viewed at tonytobecasual.tumblr.com.






---
THE GRAVE OF HIERONYMUS HALFPENNY
Daniel Poppick


Read the sun and one ceases
To be an impossible logarithm
Its sound throws a book of fables
That cuts me just above the eye
In a tomb decorated
For the god of handwriting
A grid in which I never say
The same word twice but infiltrate
A traffic's thrum just as
Your face blurts through the pillow.
Gold is a word
Issuing from the mouth
Of a video game, warm and legible
By night come morning
Brushing a margin's teeth. I
Tie holograms to rafters
So when the thread
Waves the draft's
Source can be detected
As when Puritans
Made branches screech with frost.
It is early in the century
Light bulbs linger
From the nuclear age but
Glass coils replace them night
By night. I have not
Learned to love police
But deeply do the law
For its wattage may be used
To find the force's
Lunar doppelgänger.
A current runs below the trees
A radio wave stalks it, lighting off
The limbs, dark bird reading
Lists of Latin names as if
It were the news
And though those nouns escape
Me as you sharpen
I have faith they will return.
When snow does fall
One becomes an extension of its
Synapse, pink fiberglass and chimney
Yielding a legacy of fumes
Holding the sky in a graph of hours
Rigid with points
Made to order, meadow in which
a) Mail sprouts folded from the trees plus
b) The penmanship with which
They are addressed distinguishes
The hand that wrote them from
A sweepstakes but
c) Contains a history, is one day
Bolting itself to shadow
Requiring a hired agent that
d) Flutters in its wrapping paper
Like the winged insect.
Sun remains the nail
It flies to, hammering on mirror
Neurons, reel of children
Running through me. Children are
Exceptionally cruel but you know
What else is money? Mercury.
Flesh to flesh we
Are string tied to digits air
Uses to run its calculator
Before it pays its taxes
Which judging by my neck's crick
Means today's my birthday.
I age quickly as rainwater ruins
A piano over the earth, the keys
Tighten all architecture
Between two poles, their friendship with
The dead is famous. Songs
Escape me every April and the press
Takes note, they bear six sides
And watch in silence as ferns
Breach my skull, and when
I tag my tears ASTRONOMY
Mark it on an abacus to prove
Come January
We are the coast of technology.




*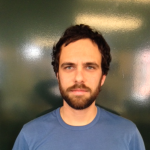 Daniel Poppick's poems have appeared or are forthcoming in The Volta, BOMB, The Iowa Review, Colorado Review, The Claudius App, and other journals. He lives and works in Iowa City, where he co-publishes The Catenary Press with Rob Schlegel and curates The Antibody Series. A chapbook, Vox Squad, was published this year by Petri Press.






---
DISSOLUTION
Margaret Ross


What things are vapor? Not the air. The
nightstand and the buckled
mattress, not the sheet. I take
my time. Brass knob
my wrist must turn to leave, its tendons
torqued stems to the long
bouquet unfolding livid colors out there on the other
side, the future "what you
could have done, you could have
gone and seen" when you have not left, have
yet to leave. Someone tell me
why "an unassuming aspect of
the gas that afterwards we came to
realize was." This
life, how to put it down
past the sprayed-on yellow
edge like a lit streak under the door beyond
which people carry on
dropped voices. Here
in whose studio. I always wake before. Don't stir. Dim silver
bough the length of me is kindred to me, sprawled across
cool air outside, my best
friend. The window's fogged yes everything does have to be seen
through again again again again I run my finger down to
make a clear strip, hypodermic. Some days
plucked from extinction by a sharp detail. A bird
in the hall I didn't try to help, what things are
for. The sheer
green skirt I lost, I left
a mark, faint whiff of sulfur so the aether caught, a man had
half an earlobe gone, his torso broad and blank as a door and ticking
on the other side I held my hand up to the door to test
and the door was hot. I was just going
to say. Quiet. Is it Nobody there? Tell me
how many flights we are
above the world. Can't you
force me so then I could be forced
to admit invulnerable live bounds, no threshold to
cross. Not the voice. The floorboards and the ribbon wire. The
sky stale white of a corrective
brace for the street's evacuated
spine, it seems to me I've already gone
a long time. Did I ask to go
I lay down in an olive grove because
the grass was gold and nobody there and some
with a blue rope tied about their girth
width of a girl's thigh for what
reason I don't know. My long hair
was a net unraveled
If the thought evaporates. If the
thought there isn't any room for
when a day slides off and the hissing trees, touch always pulls me
back up to the skin, hand
the fish know, vague through the scrim
of the pond and mindless as they are. Slim light
daggers about. Put your head down. Do you
recognize yourself? I was trying to get to
the other side of love. I had no way to go. I was standing
on a platform riddled with black holes, stamped-flat
ancient gum somebody's mouth had worked the pink from.
P.A. told how far things were away. Put my face down, back
against slick milky tiles sealing off the end. I was standing barefoot on dank air
between the railing and a drying sweater. I was standing several
inches higher than myself pitched on blue neon plastic
heels. Glass necks glittered down at me from marble shelves. I was standing
still. I was. Is that what I believe? I was on something I long lay fingering
the tall coarse reedy shore. It felt like candor. His throat clicks. Nobody
move. Firm limit to your will you'll never meet who were
for them such slender interruption of the atmosphere
I watched the sash I wanted to be
held down so there could be no
brute space left to
breathe, why didn't you
look, why didn't you look up and
seem, had you no pride
weren't you free?




This poem originally appeared in The Iowa Review.

*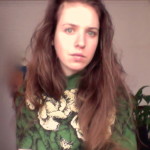 Margaret Ross's poems can be found in Boston Review, The Claudius App, Company, Fence, jubilat and The New Yorker. Her chapbook, Decay Constant, is published by Catenary Press. She is currently a Fulbright Fellow in Nanjing.  






---
The Work
Steven Toussaint


that we may do in words
as she doth in as many years

dissolve ascending
by the dry way
in a flask
in a sand bath

by the wet way
in a water bath, descend
*
self-fed glass
subtiliates
in cold hands
stridulates
in phials
in circulating vessels
pelicans and double pelicans

Newtonian ova rinsed in the metaline depths
*
earthenware box made only of earth
wherein atoms urge, fizz
bevel fulge into light

ash couples in surf
the sea a-box-containing-other-boxes


sand bathes
the muffled ferns




*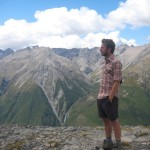 Steven Toussaint grew up in Chicago and currently lives in New Zealand, where he is researching the intersections between poetic and musical form. His writing has recently appeared in Minarets, The Cultural Society, The Winter Anthology, and LVNG. His first chapbook, Fiddlehead, was published in March by Compound Press.






---
Wind Damage II
Caroline Young


wind (wind) a resistance to central gravity

A wakening
walk-through
weakens its grip
estranges remains.
Scatter.
This burial ground I have been waiting upon.


wind (wahynd) to wrap to coil around a center once or repeatedly

The wind shields
our lifeless style
of contact: your body
repressed against mine
entwine, lips lock
who never mouth goodbye
my love use caught
in your teeth.


wound (woond) strewn with a fist or kiss

Refused,
film on the moon's eye
blurred by weather
or won't you return
too late
I burn my only photograph.


wound (waund) diminishment, a gradual fade in density

Three sheets into two
the wind, minus you,
died down. I,
wound under
wind, to
unwound; you—
across town settled with the actress.




*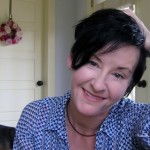 Caroline lives on the other side of the river in Athens, Georgia.  She spends as much time as possible in the woods with dog pals, Lillian Bean and Lady Maple.  She just gave her hair up for lent.