Spectacle

His rumble, the way he tears
at the carrion, then leaves a hive for listening.
Tusks bang and glimmer in the sunlight. Can't stoop to interpretation.
I press my mascaraed face
to the fence and see my relation—
he's mangey, has his pounds.
There's an eon that beckons me back, and recognizing the swipe
turning into blazing reason, I tell myself

let the sobbing
take on a rhapsody, let this
strobing outlast my afternoon mind.
The big chrysanthemum flirt with death inside.
A flash down the access road,
playing the system, his cunning restores my empty party.
Every day he's my dream stand-in.
Someone's taught him
when the clock is lit,
the budget's been gored with the low-down.
A breeze draws a furrow
in his hair, and stringy meat gets licked away.
Twilight's pulse thrumming like so—
bellowing near my own throat.








Fierce Tracking Flourish

I'm so hawk now and dwelling
just outside
the bundle of a room. Clutter does seep
into the dark land. Dare me to move down
and we'll go head first
to find the hammering still persists.
Sixteen days and there's nothing more to fling into the maw,
into your wilderness.
How to aim the spittle,
how to make it fit through winter's motor. I'm as good
as fainting,
and I've learned it from you, having seen
the graceless aim with a gun as big as all get-out.
Show me
the ambush, the gap in the stairs—
it's pay back time with a barbed wire frame.
Alight on it,
perch between losing and lurking.




---
I am presently writing poems that dwell in and meditate on the human experience of animals in a zoo. In this sense, the poems are not precisely about animals, or about zoos, or even about the human observer, but more about the ontological space of those encounters. I hope the poems allow the actual details of animal behavior to inhabit a shared space with the imagination of the observer.
---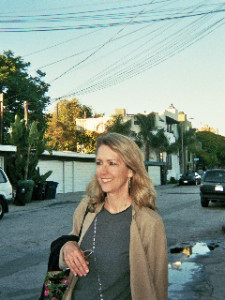 Molly Bendall is the author four collections of poetry,
After Estrangement
,
Dark Summer
,
Ariadne's Island
and most recently,
Under the Quick
from Parlor Press. Her poems have appeared in the anthology
American Hybrid: The Norton Anthology of New Poetry
. She has also co-authored with the poet Gail Wronsky
Bling & Fringe
from What Books Press, and she translates the French surrealist poet Joyce Mansour. Currently she teaches at the University of Southern California.