---
These poems come from a set of about 20, which has undergone a variety of titles—"Experiments with Air," "Illuminations" (after Rimbaud's), and "Spiritual Exercises." At this point I don't care what they are called as long as nobody tags them as "concrete poetry." I abhor the term. There's nothing concrete about them; they're made out of letters—not little groups of triangles, circles, and marks that architects use to represent concrete on their blueprints which no longer are printed or blue.
---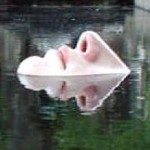 Mark Yakich's most recent collection is
The Importance of Peeling Potatoes in Ukraine
(Penguin, 2008). He teaches at Loyola University New Orleans and edits
New Orleans Review
.