from 24 Pages

The frog kite flips over
itself
makes a loop
of itself
Recall tying a chair to a kite & sitting there
for it to fly
Migration patterns askew in the hot March
blue herons also pass over
the frog kite's tongue




~




Laughter thought her
out
Winter over
clothes put by
in the cedar trunk
First phallus popped up: asparagus
in the land of the rabbits
or is the body a plant
with nerves that are fern
I guessed at the German: die Farben sind dunkel
The father sings dumbly (The colors are dark)
feather-father
the bones earth or trees




~




"Something interwoven, embroidered, literally applied to the figures 'overwrought' or
'written over' . . . "


the sun spells


Laurel & Prunus


lily-white turnip




~




Tractors were driven around the Capitol
In the uppermost branches
a flicker drums in
to the cambium layer
I heard this while coming
The news too down our spine




---
The poems here, and all of "24 Pages," began during the out-of-kilter extreme warmth of March 2012, during which our few thousand fruit trees budded, then blossomed 2-3 months early, resulting in the death of most of the year's fruit once the inevitable late frost came. The writing continued through that summer's unprecedented heatwave and drought. Drought-losses merged I think with the death of my father, a woodworker, in July 2010. Once written, "24 Pages" was typed on a manual Montgomery Ward Escort 500. Although I had not been able to work for some time, the typewriter, and weirdly the fatal weather, allowed me back in.
---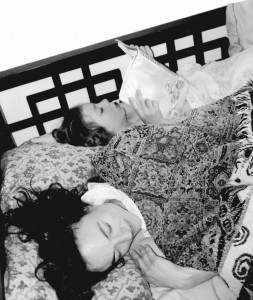 At the time of this biographical note's composition—winter solstice, 2012—there is a blizzard in Madison, Wisconsin, where Lisa Fishman is snowbound. She (I) wrote
F L O W E R – C A R T
and
Current
(Ahsahta and Parlor Press, respectively, 2011), and three other books including
The Happiness Experiment
. New work appears in recent issues of
Volt
,
jubilat
,
Cannot Exist
,
they will sew the blue sail
, and in friends' mailboxes. She still lives in Orfordville.