HEADLINE NEWS


1.
it means you know somewhere
there's a sound for what you feel
and just in time
doesn't need to be perfect
or you could read or get eaten by a river
IT STARTS WITH A CLEAR SENSE OF PERSONAL PURPOSE
few levels of misery
aren't corroborated by language or music
but they're there I'm afraid
inside cages with purpose


2.
it occurs to me
America
I'm talking to myself
it occurs to me I'm earth wind fire
and problems with my health
I am the world
then wake up world
we are the world we are the pilgrims
THE REPUBLICAN ART OF DENIAL
I know knowingness can kill you


3.
strict karma is a ridiculous idea
generalized karma is not
discipline comes from suffering
suffering comes from god
god's beyond the world of forms
forms are all we've got
I'm thankful for my form right now NASA:
WATER WORLDS
OF OUR SOLAR SYSTEM
AND BEYOND


4.
JAMES BALDWIN'S PARIS
I've been trying to write a character
all I've ever really wanted is oblivion
truth covered in security
NYC A train sometimes I inhabit them
or sometimes I
barely see them
with knowingness the greatest threat there is to human freedom
and knowing this as just another knowingness
conceded








HEADLINE NEWS

1.
space between one's skull and one's knowing what to do
space between my toe and the toe of my shoe
FEED YOUR
HUNGRY BABIES,
POPE TELLS MOTHERS
IN SISTINE CHAPEL
on the ceiling we're barely a fingertip
from god
these things obviously
will happen


2.
belief in the destiny of values
means community and fear
SCREENING FOR MENTAL HEALTH ISSUES
MAY NOT GUARANTEE CARE
every appointment
will be over
eventually
gutta cavat lapidem
there's thunder
my schnauzer's all scared








---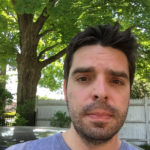 John Deming has published poems in
Boston Review
,
Fence
,
New Orleans Review
, and other magazines. He lives in New York City, where he is Editor in Chief of
Coldfront
and Writing Center Director at LIM College.