---
Selected by Mei-mei Berssenbrugge as a finalist for Omnidawn's 2019 Open Poetry Book Prize
---
Apologetics #2
We're suckers for language in the fanatical
form of want. She says, "That's a poem," admitting
pleasure here entails the
introduction of new: purple crocuses pillowed out across
the street. I asked her to cross with me, really
silly with longing for the slips of young flower until I wrangled
their sublimity with a simple wish: "I want a garden."
And she said, "You want everything, don't you."
Fantasy is one way to avoid
the void; language is another, wet spackle,
filling the only fissures through which
grace might seep.
---
Metal theft
Copper wire and pipes were stolen
from half a mile of live
lines, leaving all of us
partially powerless in
the august months of winter.
When I saw you, finally, it was
like cold February sun
suddenly on my face in
the intersection before the park
where the buildings part;
not warmth, but kind
of like it. The price
for scrap metal is up.
They take for scrap now
what was until now in
use. I see you, coolly, with light
beams that have to wrap
far over the earth's curved surface.
Yes, there is the crammed apartment
I don't live in anymore;
it's a live wire of a feeling
until the quiet replacement
of the copper lines and pipes.
Totally routine.
Orange slices again exposed
to the radiator's dry heat.
---
Emma Wippermann reading: Apologetics #2
Emma Wippermann reading: Metal theft
---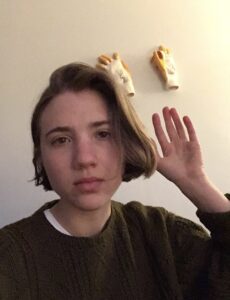 Emma Wippermann is a writer in New York. Her first book, Pleasure as a Series of Objects (Patient Sounds, 2019), is a hybrid text of prose poems, essay, and phone photos. Recent poems can be found in jubilat, Oversound, Ugly Duckling Presses's new journal The Second Factory,and No, Dear. She has an MFA from Brown University, where she was awarded the Kim Ann Arstark Memorial Award.
Post navigation