To the Winter Apricot Blossom
Did I trick you,
with the glow from my window,
the warmth of my skin?
It started with a lone flower,
ember-like in the lifting dusk,
burgeoning on the branch
nosing into my room.
At night the floret shadow dropped
onto my page, my arm, my poem.
In the snow you were heavy
with a hundred bulbs
to light the winter into spring.
A cold misty morning.
You alone illuminate the sky,
small lanterns, red, bursting lobes.








Foreigner

you said you counted the ladybugs on our way home;
that you counted exactly twenty; you lifted one off your shirt
and it flew into sparsely leaved branches; you ask me to pronounce
Korean words; say winter again; say autumn; kyŏul; kaŭl;
sometimes; say I sometimes think of you; say it is just so;
you repeat each like a tender bird; ladybugs hibernate in warm houses;
did you know that they're called Asian lady beetles too;
are they transplants like me; ladybugs are only pests by their presence;
I wouldn't harm you either; not even your belongings; next to you
my small mind shivers like some forty wings.








Notes
On the Comfort Women agreement between Japan and S. Korea on December 28, 2015

Pictures of two men shaking hands: Foreign Minister Kishida and Foreign Minister Yun
The "Government of Japan confirms that this issue is resolved finally and irreversibly with this announcement."
(1 billion yen = $8.3 million US)
"The Government of the Republic of Korea acknowledges the fact that the Government of Japan is concerned about the [Comfort Woman] statue built in front of the Embassy of Japan in Seoul from the viewpoint of preventing any disturbance of the peace of the mission or impairment of its dignity."
Statue: Bronze. Hair ripped short. Short. Empty chair to her right (to remember the others). Small (is only a girl). Small feet on small toes (unable to tread with ease). How can we sleep with feet stretched when (common Korean expression)
–also where former comfort women and citizens have gathered every Wednesday for the last 24 years (demanding peace, dignity) (yellow butterfly badges)
Video of Yi Yongsu, to junior foreign minister Im: Why are you trying to kill us twice? Did you exclude us because we're uneducated, too old? Because you think I don't know anything?
Will you live this life for me?
Wall Street Journal posts translated agreement. One person comments. S.Korea must realize that the offensive statues of the comfort woman have been and will be the symbol of S.Korean perjury and calumny. Comfort women dedicated to raise soldiers' morale and spirits, and to prevent rape crimes in countries.*
*(Rape to prevent rape, prevent disturbance of peace, impairment of dignity)
We used to believe butterflies pulled spring over the earth. How many springs now. Ask the deranged butterfly to dance—it will not.
(Average age of the surviving women: 90)
---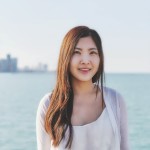 Emily Jungmin Yoon's poems and translations have appeared or are forthcoming in
The Literary Review, POETRY, Southern Humanities Review
, and elsewhere. She is the 2015 winner of
Ploughshares
' Emerging Writers Award. She works as the Poetry Editor for
The Margins
, the literary magazine of the Asian American Writers' Workshop and as a PhD student in the Department of East Asian Languages and Civilizations at the University of Chicago.