Economy
Where there are gifts, there is scarcity
that gives a little push to the exchange.
Brides will tell you.
Hunger helps in the kitchen. Or else takes over.
Where there are bodies, there are shadows
that lie beneath them.
When you buy your futures, understand:
fortunes are made and unmade like a bed
that never rests.
These windows between us and the sky
give the rain the sound of paper on fire.
I love that sound.
It walks me deep into the leaves at night.
Where there is ink, there is the white of dawn.
There is more ink.
There are sheets and therefore layers of earth.
The heart is the money we pay the ferry.
For all we're worth.






Freaks

Last night I grew another arm,
a small one, mind you, boy small,
and like a boy it tumbled out
the middle of my head, and I
told myself, relax, be patient,
be one part miracle, another
blunder, which is when a man
who looked like me walked in,
and we gazed at one another
without touching, and our arms
made gestures we could not see,
save in the mirror of each other.
Pointless gestures, I imagined,
like some tentacle in a tide
one part moon, another planet.
I am learning to be beautiful,
said the arm to the mirror. Then
out of one man sprung another,
and we were nine arms, a brain
in each, and then a room of men,
an ocean of anomalies,
and the moon kept pulling arms
and men from men, because it
just felt good to do the pulling
and be pulled in return. Down here
accidents are the fuel of nature,
the one god who trips and shatters
into many. You understand.
You were a god once, a child's
hand raised with all the answers,
and it took a lot of nightmares
to get this far, where you are learning
to be beautiful. The sea knows.
It is full of mistakes that make it
restless and uncertain. Ropes
of kelp like drowned boys that won't
go down. Children arrive each day
to horrified looks that angle
their heads and sweeten into worry.
Another night, another nightmare
plunging through the body, and we
are learning to be beautiful,
furious as waves that flood the eye.
For though the disfigured keep
moving into margins—first
the church steps, then the circus,
then the inner sanctum of sleep's
god-knows-where—they are out there.
They are learning to be older
and, like us, strangers to their faces,
apprenticed to the blood's dissolve,
where looking on might be mean
at first and then it's merciful,
and then, like beauty (more terrible
than cruel), it is no dream at all.






---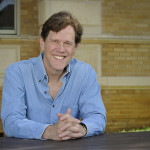 Bruce Bond is the author of nine published books of poetry, most recently
Choir of the Wells: A Tetralogy
(Etruscan, 2013),
The Visible
(LSU, 2012),
Peal
(Etruscan, 2009), and
Blind Rain
(LSU, 2008). In addition he has three books forthcoming:
The Other Sky
(poems in collaboration with the painter Aron Wiesenfeld, intro by Stephen Dunn, Etruscan Press),
For the Lost Cathedral
(LSU Press), and a book of critical essays,
Immanent Distance: Poetry and the Metaphysics of the Near at Hand
(University of Michigan Press). Presently he is a Regents Professor of English at the University of North Texas and Poetry Editor for
American Literary Review
.