This month we feature new work from four of the five finalists from Omnidawn's 2016 Open Poetry Book contest:
Mark Faunlagui – On Some Hispanoluso Miniaturists
Jackqueline Frost – Young Americans
Sarah Heady – Comfort
Allyson Paty – In The Next Room Always
Jake Syersak – Yield Architecture



BERGAMOT
Mark Faunlagui


sardines in spades are lapping-up
against málaga! ecce homo
no wonder, that final disappointment
that he: that ecce homo, he!
in polychromed plaster
has no legs, only stumps
amidst all those monochromed wood saints
shirtless, flaying themselves twenty-four-
seven, even on this national holiday
when the museum guard shooed us in
with two free tickets
that you: that ecce homo, you!
perched on an off-the-shelf shelf
at a minor side chapel, in a podunk church
he: a minor saint, he!
visiting hours nine-to-eleven and two-to-seven
a steep climb past near-sighted bums
in the latest cast-off fashions
sucking on percebes, you alien goose barnacle!
your protuberances from shells
much like elephant trunks
shells, like cleaved rocks
moss and ferns laurelling your mouth
studded beds of oregano
berms of bitter green oranges
ornamental and reflected against hard curved sheets of glass forged in izmir
vertical jungles transplanted
from south america
vermouth-blotted serviettes
bearded segway instructors






*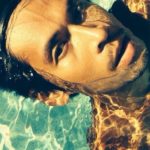 Mark Faunlagui was born in the Philippines and received a Bachelor of Architecture from Cornell University. His manuscript ON SOME HISPANOLUSO MINIATURISTS was a 2015 Semi-Finalist and 2016 Finalist for Omnidawn Publishing's 1st/2nd Poetry Book + Open Book Prizes. MAJNUN, his second manuscript, was a 2016 Finalist for Augury Books' Poetry Book Selection. He has also published the poems 'Whether or Not This Is the Best Halva This Side of Ramallah' [Greying Ghost Press's The Corduroy Mtn #4 anthology chapbook] and 'And It Isn't Mexican Cakes' [Augury Books' website]. Currently, he is developing a third work, EMBRUJO, with poets Geoffrey Nutter [Poets House New York, Fall 2013], Todd Colby [The Home School Miami, Winter 2016] and Nicolas Destino. Mark is an architect in Hoboken, and lives in Jersey City.






---
from Comfort
Sarah Heady


is the wheel. is a single loop. is creekside lupine. is scarification, is skin ballooned, is wings on the roof. a sow seen from below as only teats. a row of corn then soy then corn. a sheen of rain on brick. is puddle, is moon, a parachute in : a centrifuge : cream from milk, water from clothes. is apron (endless belt for carrying things) : strings in the back, ocean of white in the front, clean start. is clumps of sorrel along the river. is always looking for more, beating the rugs, slipping on rungs, tenderly gripping her own wrists : always : holding the chasms closed :





*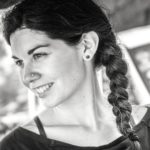 Sarah Heady is the author of Niagara Transnational (Fourteen Hills, 2013), winner of the 2013 Michael Rubin Book Award, and Tatted Insertion (San Francisco State University, 2014), with artist Leah Virsik. Her manuscript "Comfort" was a finalist for the 2016 Colorado Prize for Poetry, the 2016 Cleveland State University Poetry Center's Open Book Poetry Competition, and the 2016 Omnidawn Open. Sarah is the librettist of UNFINISHED: An Opera, in collaboration with new music composer Joshua Groffman, who has previously adapted her texts for vocal and electroacoustic works; the Vital Opera production of UNFINISHED debuted this summer at sold-out engagements in Dutchess County, NY and at the National Opera Center in New York City. A native of New York's Hudson Valley, Sarah holds a BA from Oberlin College and an MFA from San Francisco State University. She lives in San Francisco, where she co-edits Drop Leaf Press, a small women-run poetry outfit. More at sarahheady.com.






---
FROM THE END OF AN ICE AGE WHITE BIRCH ON A ROCK BANK
Allyson Paty


Like the face of Narcissus the trunks stared back
from the water, & always the stand committed itself
branch by branch, floating like any timber,
bringing the fatherland as far as the river would take it,
before any man could stand there on the bank
& call himself my people.
I am born & my limbs rise from my one body
into the law. The hands of men stretch out
around me like netting: hands shaking a sieve
in water, laying traps for ermine, doing their best
to tear into the dirt. I lick their fingers for loneliness
for strife & a language & sin, & like god
they rub into my skin.
I weave through bought-up vistas. Consider
some landscapes landscapes of mine.






*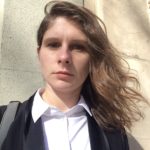 Allyson Paty's poems can be found in Boston Review, The Brooklyn Rail, jubilat, Kenyon Review, Tin House, the PEN Poetry Series, and elsewhere. She is from New York, where she is, with Norah Maki, co-founding editor of Singing Saw Press and, with Emily Skillings, co-curator of the Earshot reading series.






---
from "Appendices to Bartholomäus Traubeck's Years"
Jake Syersak


If it's the artist stars as a balustrade of ethic
where aesthetics end, the phrase "frozen architecture"
as a spelling-out-what-music-is (à la Schelling)
finally makes sense. Finally, your reality outdoes you,
outplays you, presents you as you looking behind you. What other tourniquet
would you expect to constrict
& ventriloquize trees' years into the figure 8 torso of a violin, like unseen
waves imagined in radio, like icicled antennae, like when a wisp
in the brick of mystery molding ice's design thaws, unlicks
itself to willing flatness, only to evaporate
later on—here's where process is drawn out, saw'd,
was'd, reduced to & drowned in palindromic awe. Where the question
"do you believe in the immaculate?" is more inanimate
than intimate, deux ex machina's almost a pun.





*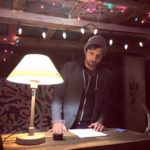 Jake Syersak is the author of Yield Architecture (Burnside Review Books 2017), as well as the chapbooks Notes to Wed No Toward (Plan B Press) and Impressions in the Language of a Lantern's Wick (Ghost Proposal). His poems have most recently appeared or are forthcoming in Black Warrior Review, Word For/Word, and TYPO. He edits Cloud Rodeo, an online journal of poetry, and serves as Contributing Editor for Letter Machine Editions.