24 Pages and other poems
Lisa Fishman
Wave Books, 2015
ISBN: 9781940696102



















Faced with a rushing stream, how to plunge in? And what to make of it? Lisa Fishman's latest collection, 24 Pages and other poems, offers:
the river the swimmer can
daylight, can current, can merge
in stead a form
Excursive. Submerged. Coming up for air. Isn't this simply how restless mind—engaging, disengaging—lurches through a day? And, then, there's reverie. From 14th century Old French, "wild conduct, frolic," now suggesting something less frantic, interior. Employing enjambment, mostly eschewing punctuation, often embracing space, Fishman's poems make a home in the river of change. Considered at the level of the page, perhaps, a face of miscellany. But disheveled? No. In the second of two longer poems, Ronald Johnson is quoted: "a series of circumlocutions". Feeling borne aloft, I read this work with a rising sense of buoyancy.
In the opening poem, an admonition (or invocation?): "oh and show how // a squirrel ate yellow flowers in the BAM- / BOO!" (it's difficult not to quote the whole for its playfulness). We're in the speaker's mind, off and strolling through what sometimes feels like notes to self (daily self, horticultural self, writer self): "The reason for others is to hear past words of the self"; "As far as the poem is concerned / nothing important happening". The perambulation will use a number of textual and typographic tools—rhyme (near- and visual), consonance, quotation, echo, underlining, capitals—as the poems move from spring to autumn. Textured, seasonal, impressionistic throughout, the two long poems, especially ("24 Pages" and "Amtrak, Orfordville, Riverhead"), explore a singular subjectivity through the interweaving of seemingly off-hand observations with memory, quotation, and the privately held.
The book brims with images from the world the poet inhabits as farmer and orchardist:
Winter over
clothes put by
in the cedar trunk
first phallus popped up: asparagus
in the land of the rabbits
The animated animal self (cat, horse, turtle, "hooded merganser", fox, chickens, to name a few) appears again and again—abides—throughout these pages as co-resident of rural space, and, the neighborhood of mystery: "out of which the animal uncanny stared back". For, charm aside, here is concern with change and loss and grief, the ache of "Uneven seeing" and earthly fact—askew migration patterns, drought, climatic disruption: "The orchard full of blossoms / two to three months early". Out of the apparently fragmented, a personal story emerges: "Next morning plus two my father died / Forever there is nothing to say".
But, of course, there is more: " 'mourning news' I thought this morning"; naming; list-making; the fluid self (and world) becoming this, becoming that: "Ha! Another thing happened next." Where does one thread end and another begin?
The body be golden okay
plant onions to flower or wild grow
silent in face of it: fact
upon fact
A thread gathers up assurance, admonition, and reflection to voice the multiplicitous, slippery self. Such sinuosity, ringing the uncanny, compounds meaning. Enjambment, and that leaping motion in mind-space, parataxis, blur the edges to express contingency, an ecological complexity.
Mind and life's open-ended ongoingness. For one—enchantment, loss, re-enchantment. A subtle and private magic enspirits these poems, transforms the work of putting up jam, the work of grief, the work of emergence. Poet as conjuror: "feather-father"; "Theater of Orchard".
At intervals
thin birches leaned against the other dark
They were a tale, leaning
To mend the broken linear, look close: "Electric Fry Pan booklet / I land here". A certain slant of mind? play?—negotiates cold distance, for child and adult alike. The distance between loss and everything else life is made of is "a stone's throw", an image that recurs. The water ripples under us: "Things in the center, acting // Wildfire wildflowers out".
Among our companions on this collection's journey, time (or maybe Time), John Clare (that charismatic, mysterious off-centeredness), and Chaucer: " 'The stream of lyf now droppeth on the chymbe' ". How to be—perhaps the implicit question here—oh, an artist, a survivor, a person. Of course, no explicit answer, but the word "permission" echoes. "Yes Eros/being/method", the poet writes. The great permissiveness, "that the plant may leaf out into leafing".
These poems touch the earth, smell a clump of soil in their hands. And, yes, a method—fecund, inclusive—is embodied here in the face of loss. Part of the pleasure of this book is feeling not only charm but depth. Taken as a whole, the poems speak a creative response, acknowledgment: "Lots of things float in the air when you're looking". Reverie, Gaston Bachelard, philosopher of its cosmic essence, wrote, "helps us inhabit the world".
In a 2013 interview, Fishman notes being taught by Creeley's poetry to look at things, "really seeing them, not decorating what you're writing or what you're seeing". Despite the challenge of "Uneven seeing", the poetry's close attention without excess also calls to mind Lorine Niedecker's spare acuity; such attention, perhaps, is a way of "evading elegy". (The author was recently named the first Lorine Niedecker Poet-in-Residence.)
"The thinking was like Origami", reads a line from Fishman's Flower Cart, the collection preceding this one. Immersion in a complex enfolding continues. Plunge into 24 Pages and other poems. Its ART (I borrow gratefully) gives joy.
---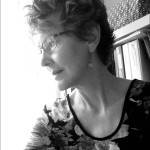 Mary Cisper's poetry may be found in
Hayden's Ferry Review
,
Newfound
, and
Denver Quarterly
(forthcoming). After recently completing an MFA at Saint Mary's College of California, she lives in northern New Mexico.