Review by Lina ramona Vitkauskas, Chicago Correspondent

"During the war I worked for A.J. Cohen Exterminators ground floor office dead-end street by the river. An old Jew with cold grey fish eyes and a cigar was the oldest of four brothers. Marv was the youngest wore windbreakers had three kids."
—Exterminator!, 1973
In about 1943, after his army discharge for mental instability, not-yet-novelist William S. Burroughs came to Chicago. He bounced from job to job, one of which was an exterminator.
Though his presence in our city was short-lived, there's no doubt that the mingling of the mundane and the muck that he likely witnessed during that era in Chicago served as ample inspiration for what would become his famous narrative tone. In fact, in a passage he later expurgated from Naked Lunch, he wrote, "There is something about Chicago that paralyzes the spirit under a dead weight of a formalism dictated by hoodlums, a hierarchy of decorticated wops . . . And everywhere the smell of atrophied gangsters, the dead weight of those dear dead days hanging in the air like rancid ectoplasm . . . You suffocate in the immediate past, still palpable, quivering like an earthbound ghost . . . Here the dream is suffocating, more real than the real, the past actually, incredibly, invading the present."
(Chicago, that's what Burroughs thought of us).
In spite of that, I often gravitated to his work for inspiration. Though Burroughs was not a poet—"To make the case that he was also a poet is neither revisionist nor perverse but absurd. After all, Burroughs paid about as much obeisance to genre or medium as he did to the law."—poets across generations indisputably identify with the defiant, antiestablishment spirit of Burroughsian thought. One of many that I personally find myself in (as I reject what is presented to us as "reality" daily): "I'm creating an imaginary — it's always imaginary — world in which I would like to live." (Interview, The Paris Review, 1965).
So to pay homage to a writer who blasted the barriers of reality—an unstoppable force who challenged sound-word-method-thought—poets and musicians gathered at Co-Prosperity Sphere in the Bridgeport neighborhood in Chicago on November 1, 2014 to perform either personal works or excerpts from the former exterminator's writings.
I've used brief, half-synopses from random chapters from Naked Lunch to set-up each performer's contribution to the evening…seemed a fitting arrangement.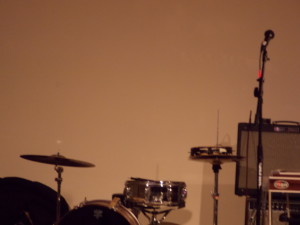 Chapter 1:His journeys take him across the United States and down into Mexico and beyond. On his travels, he meets up with various members of the underground drug and "outcast" cultures.
The opening of the evening unfurls. Cue wistful Western twang by Thomas Comerford.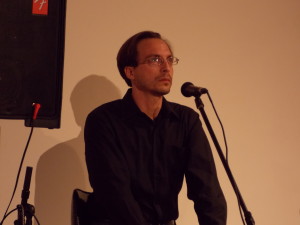 Chapter 2:The man known as the Vigilante is introduced, not so much by his drug addiction but by how it makes him behave.
Next Davis Schneiderman—co-organizer of the event, co-editor of Retaking the Universe: Williams S. Burroughs in the Age of Globalization, and Lake Forest faculty member—takes the stage. A large cockroach is seen out of the corner of my eye. Wait, that was someone with a camera up to her face. David introduces. David fades out for moment.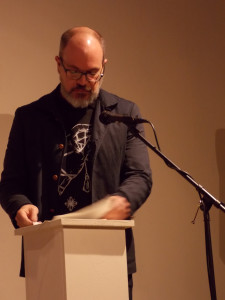 Chapter 3: A cross-country trip. The Rube gets the whole group caught by the police. The Rube gets an overdose in prison in order to kill him and leave him there.
Sasha Frere-Jones of the New Yorker reads from The Western Lands.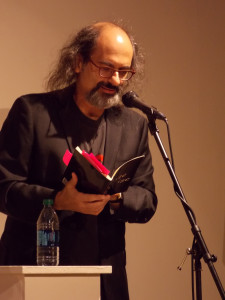 Chapter 4: The narrator contacts Dr. Benway to begin a new project called Islam Incorporated. Benway explains his famous project in Annexia, where he encourages a police state in which arbitrary punishments are given for everyday offenses instead of using physical torture. This place quickly reduces the town to a mass of scared citizens.
Tony Trigilio reads from his latest poetry collection, White Noise.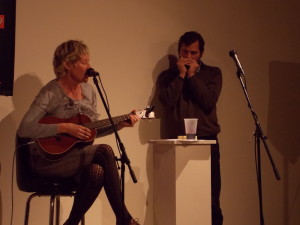 Chapter 5: Joselito is a young Mexican peasant who is diagnosed with tuberculosis by a German doctor. Carl and the doctor discuss the options of treating Joselito either by chemicals or sending him to a sanitarium. Carl helps Joselito get a place in a nice sanitarium. Carl gets high and images from the sanitarium and the rest of his life mix together in a general hallucination.
Sally Timms (of British punk rock band, the Mekons) sings a dreamy, country-style ballad perhaps inspired by Burroughs' Midwest origins.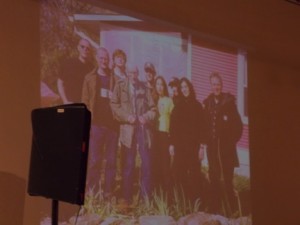 Burroughs moved to Kansas in 1981. A brief slide show of past visitors to Lawrence.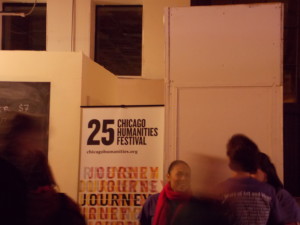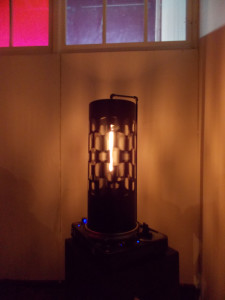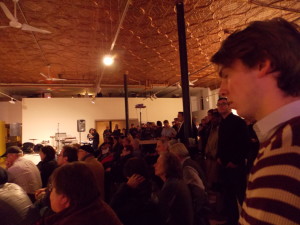 Dream machine (recreated Dream Machine by Lake Forest College and Chicago Humanities Festival).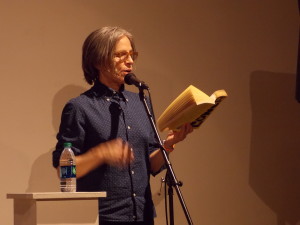 Chapter 6: At the Meet Cafy, two types of organisms meet and engage in drug deals. The Mugwumps have no liver and live off sweets. The Reptile feed off of the Mugwumps. Fats goes to a Reptile to buy the eggs that he has promised to sell to the Sailor.
Poet Eileen Myles reads from Naked Lunch and blows everyone away.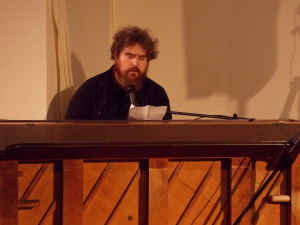 Chapter 7: The narrator hears various pieces of music, including the Star Spangled Banner. The narrator records his drug intake in "Habit Notes." He describes the difficulty he has finding new sources for drugs and new veins to shoot them into.
Songwriter and composer Daniel Knox performs a exquisitely curious love song inspired by Burroughs work. Knox has scored for film and theatre and has performed with artists such as David Lynch, The Handsome Family, and Rufus Wainwright.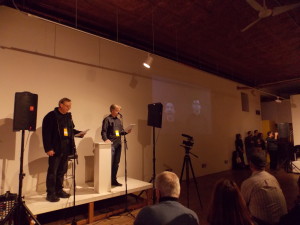 Chapter 8: On a university campus full of barnyward animals, a professor lectures a class of male students. The profession gives the students highlights from his own sexual adventures and encourages the students to express their own sexuality freely. The professor calls attention to the Rime of the Ancient Mariner. He makes negative comments about the main character of the poem before returning to his lecture.
Billed as the performance group, The Muttering Sickness, Lake Forest professors Richard Pettengill, Don Meyer, David Schneiderman, and Joshua Corey put forth into the universe an original, Burroughs-inspired piece including spoken word, film projection, and music.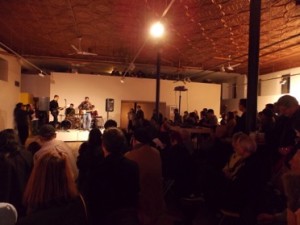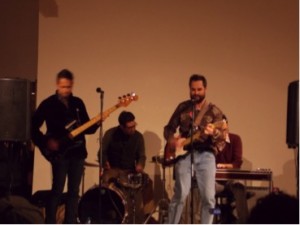 And the band played on.
World's. Largest. Cut-up. (Possibly).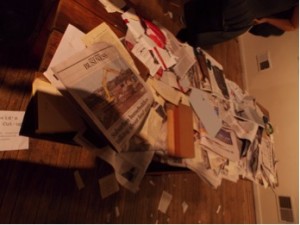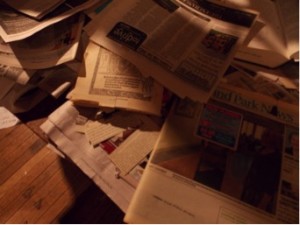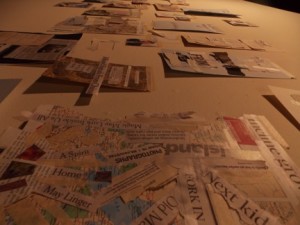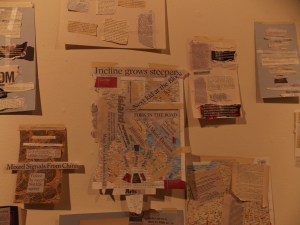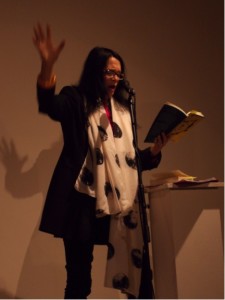 Mystic, warrior, poet, performer, collaborator, professor, editor, scholar, cultural/political activist, founder of Naropa with Ginsberg (called by Burroughs, "the Naropa mother") and Burroughs associate: the last performer of the evening, Anne Waldman, offers a fiery and unstoppable performance, reading from The Soft Machine.