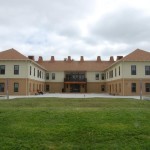 What: Studio One Reading Series
When: December 4th, 2015
Where: Studio One Art Center, 365 45th Street, Oakland, CA
Websites: studioonereadingseries.blogspot.com
Contact: caseymcalduff@gmail.com
Review by Kevin Kvist Peters, Bay Area Lit Scene Editor.




Studio One Arts Center comes upon you unexpectedly in a quiet, residential neighborhood. There is a strong familial and community feel because of this, and as I walked in there were families and small children walking around or finishing up classes in the building. The doors open at 7 p.m. so that you can have food and refreshments and mingle with people before the event begins. Bryn Garrehy, the mc, who introduces each reader, adds to this inviting community feeling with his laid-back, quirky, off-beat banter, amusing anecdotes, and general sincerity.
Leora Fridman began the evening reading from her new series of poems entitled "Glacier National Park." The pieces were eco-poetic in their conceit, but this eco-poetic framework was a backdrop to more personal, metaphysical and existential considerations. There was a sense of longing, failing, displacement that blossomed from deep emotional ties to natural phenomena. In the wake of her reading I felt an acceptance to be small and frail: "does my body ever speak for me on purpose."
Leora's work has an aptitude for wit while exploring uncertainty and is blunt in asking questions as to why that uncertainty lingers. In this way it is self-assured and deeply confessional. Also, it is using the landscape and an unnamed park ranger as a counterpoint to her and all three are in turn counterpoints to America as a whole. I could feel the work trying to bridge the gaps between the poet, the natural environment, and this concept of America.
The second and last reader of the evening was poet Arisa White. There was also a narrative thread that connected each of the pieces Arisa read. These follow a character that during the reading felt self-referential, named "She." With her voice and style, the poems felt musical, implementing the rhythmic repetitions of blues and improvisational atmosphere of jazz that at times almost made me forget I was listening to specific and detailed narratives rooted in realism albeit with magical and surreal elements deviating from the narrative. The Miles Davis classic "Bitches Brew" was haunting the background of many of these poems, which considering how much of a revelation that record was for me in my late teens and early twenties, provided a wonderful nostalgic sensation. In her poems the smallest detail is precise and holds great importance. The marginal is just as grand as the characters.
The series of poems seemed more like a dramatic play than a series, with each piece acting as a new scene. They were so warm and inviting, I felt as though I were listening to them next to a fireplace. It puts you in a trance, partially because of the musicality and use of English-based Creole, and partially because of the attention to small details. Although the content of the poems often dealt with difficult subjects like identity struggle and origin, or about a character preparing to meet with social services. It was beautiful but dark, and elegantly read.
The Studio One Reading series is held on the first Friday of each month, located in Temescal, Oakland. It is housed at the Studio One Art Center, and curated by Casey McAlduff and Sheila Sumner (a feature writer for Omnidawn).


---
Leora Fridman
from GLACIER NATIONAL PARK
I sweated it out
to the ranger
I left him
to be
I lied and said
I was single
when I was only
camping alone
does my body
ever speak
for me
on purpose
what does anyone know
about the outdoors
I want to feel comfortable
in a woodland environment
in a natural skin
won't you take me, ranger
won't you ask my skin
to see
will you arrange me in this habitat
will my body
ever speak
to me




from Glacier National Park was originally published in Dreginald.