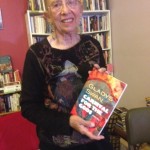 Gladys Swan has published two novels, Carnival for the Gods, (Vintage Contemporaries Series), and Ghost Dance: A Play of Voices, (LSU Press, nominated for the PEN/Faulkner Award), as well as seven collections of short fiction. Her poetry, essays, and short stories have appeared in many literary magazines and anthologies. Much of her work is set in New Mexico, where she grew up. Though she has spent most of her career as a writer, she has devoted much of the last two decades to painting and exploring the creative process. She was the first writer since the inception of the Vermont Studio Center to receive a fellowship for a residency in painting. She also received a fellowship from the Lilly Endowment for a year's work in the visual arts and a study of Inuit art and mythology, and a Fulbright Award as a writer-in-residence in Yugoslavia. Her paintings have appeared as the cover art for various literary magazines and books, including her recently published book, The Tiger's Eye: New & Selected Stories. She has twice been a Guest Writer at the Vermont Studio Center and has held residencies at Yaddo, the Chateau de Lavigny in Switzerland, the Fundacion Valparaiso in Spain, and others. The Carnival Quintet, the outgrowth of her first novel, is being published by Kiwai Media in Paris. The first volume, Carnival for the Gods, appeared in September, 2014. A trilogy of novels set in New Mexico is being published by Serving House Books: A Dark Gamble appearing in February, 2015; Ghost Dance: A Play of Voices (to be reissued in paperback) ,in August, 2015; and Ancestors in March, 2016. She has done the cover art for the books.
Gail Aronson is a fiction editor for Omnidawn and a current MFA candidate at the University of Alabama. She really likes cats and questions. Do you have a question for her? Ask here.
Excerpts from Gladys Swan's Carnival Quintet follow the interview.